Goth To The World
April 22, 2015
Human mind is such that if they sense even a slight difference in their surroundings, they won't openly accept it. Jet black clothing, chokers, black combats, hair styled in the most bizarre ways, hard core Gothic metal music…nope, most certainly not something people would prefer to wear or are accustomed to experiencing on a daily basis. And what if they are? Say hello to judgement. Or better, welcome to my life. It's not very pleasant to hear people say" Oh my god! Why can't you be more normal!" or on the extreme sides ,"Gothic music isn't even famous, you're ancient." But I am really okay with it you know. I have people who understand, so go ahead.

But it really troubles me when everyone talks about freedom and expression. But don't you think there is an abundance of thought right here? Cause people, let me stop you right there. Goth is not abnormal. It is a choice, a lifestyle a person chooses to follow and live, just like any other subculture. But because of their divergence and rarity of music, fashion and interestingly sombre and unique style or let's just say, interpreted by others as dark and as many religious sects would assume, going against the power of the Supreme Lord, they are often misunderstood. But these qualities do not apply to Goths as a community. It applies to an individual itself. It is up to them to define what Goth is for them, and whether or not to imbibe the aforementioned qualities. For example, you don't become Goth if you wear black, and also, you can still be a Goth if you totally adore pink. It really is up to you. You can't become Goth overnight either. It depends on how you naturally think, your imagination and thought processes. You can be who you want, and still be Goth. You like hippie fashion? Go ahead. Everyone wants change. You don't have to wear black clothing all day…gosh, Goths have normal human skin people…black attracts heat, I'll wear white if I have to! And it really is weird when a Goth wears colour and people go like," Oh my god! Finally planned to be normal, huh?" or like when for a change we plan to listen to a different genre of music, 'cause I get it a lot. I like Gothic metal and stuff, But I love EDM and Techno at the same time and when people go," Stick to your genre , man!" I tend to want to punch them…in the face. I'll listen to what I want, so excuse me.

And what's more? Well, Goths are often misunderstood to be depressed and serious, but I highly doubt that. People from outside the box tend to think that they are anti-social and somewhat mean and unfriendly….but really, it's not them trying to keep away, it's you making assumptions based on looks…more like judging a book by its cover. But the point is, if you are normal with them, they are normal with you. But if you treat them like some Decepticon from outer space, well, don't expect them to be nice to you. I mean, let's be real…who would?

But well, almost coming to an end, let's see the more emotional and intellectual side, shall we? Goths are apparently the most darkly, romantic people, having a flare for both empathy and sympathy. They are also considered to be talented in the sphere of Literature and Fine arts with sentimental music covering almost every emotion in human nature , literature, art…and everyday their creativity inspires me to be different, to be unique. And moreover, if you've lost all love, hope, if you can't find a way to switch on the light during the dark…if you need love, faith and loyalty…you need a Goth in your life.

I am a Goth.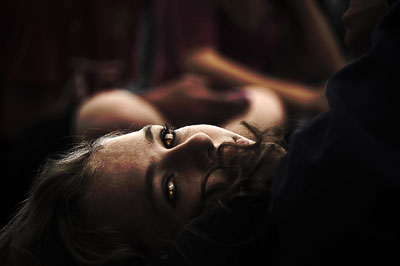 © Calvin C., Salt Lake City, UT