Holi in Kathmandu
MAG
March 13, 2015
The thumping on the door is getting louder, and there's no place for me to escape. Seeing no other option, I go out on the balcony, hoping I will not be spotted from yard.
"Going somewhere?" The whisper startles me. I freeze, realizing I have fallen for the oldest trick in the book. "You're too easy. You walked right into our trap!"
I try to retrace my steps, but nothing I do can save me today. He brings his hand forward, and I cover my eyes, praying.
Splash! The inevitable has happened. I am drenched in cold, red liquid. I peek at him while struggling to keep the drips out of my eyes. His grin stretches from ear to ear, and after an awkward pause we burst into hysterical laughter.
"A water gun, Rohan? Seriously?"
"Well, I couldn't waste a water balloon on you, Mr. Introvert. And do you know how hard it is to climb up to your balcony? I almost fell twice!"
"That's exactly why I tell you to leave sick people alone on Holi, idiot!"
"Oh, you're sick, huh? I remember you being allergic to colors last year, and you had an exam the year before, and …."
"All right, I get it. I need to come up with better excuses. Now that your mission is accomplished, please, can you just leave me alone?"
Climbing down, Rohan looks back and gives another grin. "We'll see about that!"
I see no point in returning to my room, so I decide to enjoy the view instead. The spring air in the month of Falgun is cool and refreshing, and the gentle breeze striking my wet body might even be soothing – that is, if the frenzy on the ground below was quieter. The whole neighborhood has gathered in the yard – kids, parents, grandparents – everyone. Since the government has declared Holi a national holiday, even people I consider mature, like Mr. Sharma from next door, have joined the battle of balloons and colors with the children. The ladies are on the right, spreading handfuls of powdered dye in their already colored hair as they gossip about the styles for wrapping saris. Kids are smiling, that their parents are finally involved in their games.
The Sharma kids, as usual, are no match for the Thapas' epic balloon tactics, but their spirit does not seem diminished in the least.
To the other side lie a few green monsters whom I recognize as my friends. Rohan's smile reveals his secret pleasure in being able to flirt with Arushi right under our parents' noses. Amit, with whom I had planned to stay in hiding for the day, waves at me. I reply with a wave but quickly pull my hand down. On Holi, it's wise not to attract attention if you don't want a bucket of cold water in your face.
At the other end of the yard I notice Mrs. Agrawaal dancing with some other ladies (her long ponytail is the only way I can separate her painted face from all the others). She used to teach us culture and tradition in second grade in her delightful Indian accent. I am reminded of the time she told us how the evil King Hiranya-kashipu had once ordered his own sister Holika to kill his child in a fire (to which she was immune), but how her immunity was shifted to the righteous prince Prahlaad instead, and how this festival had been celebrated in memory of the victory of good over evil ever since.
Although the festivities here are nowhere as lavish as the celebrations in her hometown in India, she seems to be enjoying herself. This gives me satisfaction, though I am hardly helping to make the day more entertaining.
I suddenly hear little Hari shouting from below. Turning, I catch a glimpse of Rohan trying to hide his laughter. Before I realize what is about to happen, Hari launches a balloon at my face. Reflexively I put out my hands, and – a miracle – catch the ball full of inky liquid without popping it. Despite the Naruto-themed painting on his face, even I can see Hari's expression change.
Now, it would have probably been sensible to let poor Hari go. It would have saved me from the war the kids declared on me a few moments later. But it was Holi, and anyone with the any knowledge of this holiday knows it is no day for restraint.
"Happy Holi, boy!" I shout, laughing as the balloon explodes in Hari's face.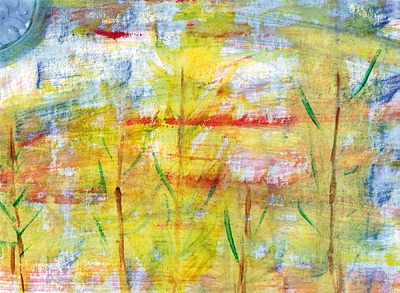 © Raymond G., Phoenix, AZ