Dancing in the Rain
MAG
October 23, 2013
During my stay in India, I lived in my grandmother's flat, a small two-bedroom in the heart of downtown Pune.
We lived within minutes of the famous Laxmi Street, the bhajaii valas selling their fruits and vegetables, hawking their goods loudly as a parade of religious worshippers carried a statue of Ganesh down the road, and a lady's clear soprano rising above the others' in the recitation of the Bhagavad Gita, the Hindu religious script, the Sanskrit words fusing with the chaos of the street vendors and the trumpeting of an adorned elephant ambling down the street.
Sometimes a woman would pause to greet my mother and inquire after our family; my mother once had a life here, in this country where everything felt so alien to me. I would stand awkwardly by her side as her friends gushed about me, how tall I was by ­Indian standards, how pretty I had ­become over the years.
"America?" they would ask, their heavy accents rolling the vowels, adding hills and mountains, making my home sound like a totally new place.
My grasp of Marathi, my mother's first language, is basic at best, but it didn't hold me back. I spent days with my neighbor, Vaiju Maushi, whose English was as good as my Marathi. I would sit on an old wooden stool with an omnipresent cat on my lap as Vaiju Maushi told me endless, beautiful stories.
Noticing an photo book on her shelf one day, I asked about it. Vaiju Maushi smiled wistfully as she pulled it down and handed it to me. It was her wedding album, filled with photos of a man and her decorated in intricate henna designs and gold jewelry.
"Tho atha kooteh ahe?" I asked, wanting to know where her husband was now.
She stiffened, her graying hair wound tightly in a braid down her back. "He left me for an actress and passed away of a heart attack soon after."
I thought about that for a while, unusually quiet. Vaiju Maushi had once told me that she had no regrets. Maybe she still missed him. Or maybe it was, as the saying goes, better to have loved and lost than to have never loved at all.


•
•
•
Monsoon season was imminent. The clouds looked heavy with rain, as if holding their breath until the sun slipped off to sleep. My cousin, Krutikka, and I sipped mango milkshakes on her glossy red motorcycle, parked haphazardly in front of our flat. I was thinking about living life to the fullest, about having no regrets, about love and loss and other things I knew little about.
"Paise for your thoughts," Krutikka offered, tossing a coin in my direction.
"They're worth a lot more than a measly paise." I grinned, distracting myself from my thoughts, savoring the sun, the scent of jasmine pinned on my damp hair and the creamy mango lingering on my tongue like the last note of a song.
"I'm a college student, beta," Krutikka teased. "That's all I can afford if I want to eat today.
"You're eating with me tonight!" I squealed. "Remember? You promised to visit the street food cart!"
Krutikka laughed. "Your mother will kill me if I let you die from food poisoning."
"Not if she doesn't know," I said. "She'll be out to dinner with a friend, and I promise not to die."
Krutikka finally gave in, and we spent that night watching TV with my grandmother and popping open cans of fizzy soda like they were imported champagne, the spicy chilies from my sev puri – classic fried street food – bursting in my mouth, setting it on fire. Vibrant fire, full of life and flavor and languages and culture that I didn't understand but was beginning to, slowly.


•
•
•
My mother woke me up early one morning to visit her favorite place in India, a small temple on top of Parvati, a nearby mountain. The way she described it – with the avatars of the gods rinsed daily, the handcarved marble statues, the beautiful sunrise view – made me long to see it. Just as we reached the top, the brass bells began to toll, filling the air with sound, bringing everything to life. Everyone kneeled – men, women, children, the pious and non-pious alike. There was a simple kind of spirituality here; it was about beauty and faith.


•
•
•
We took a rickshaw home from Parvati, the canvas seats smelling of pungent betel leaves and jeera, a sharp Indian spice. As we passed an alley, my mother suddenly stopped the driver. She pulled out a handful of rupees and gestured at the alleyway. The driver shook his head emphatically, trying to discourage her. But she pulled me out of the rickshaw and we walked into the alley.
"Every coin has two sides," my mother told me, pulling her hair into a messy bun. "This is the back side of India's."
I tried to absorb all I saw in the slum. The miniscule shacks with board walls and corrugated tin or tarps for roofing. The children peering from behind their mothers' knees, dark eyes blending with their skin, blackened from dirt. Men sat in a circle, soiled undershirts clinging to beer bellies. They spit tobacco in steady streams, reddish brown like blood. The wives stood near their huts, their saris dulled by the work of poverty. With the mud and rain and tears, the place reeked of urine and depression. I covered my nose covertly with my odhni, a scarf.
One little girl let go of her mother's sari and walked to me, and in the middle of the grime and the dirt and the stench, she smiled. As she smiled, something inside me broke. It began to rain, and she danced. The sudden torrent mixed with my tears, like a waterfall able to wash away the ocean.
As I sat curled up in the wooden swing on my grandmother's veranda that night, I thought about India. India is a paradox, I realized. It is chaos in a way – the crowded streets, the yelling vendors, the children and stray dogs. But there is beauty in the chaos, a simplicity, a sort of faith or spirituality. India isn't about waiting for the storm to end. It's about learning to dance in the rain.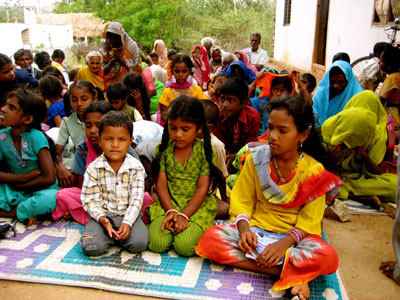 © Carolyn K., Sudbury, MA