Maps
MAG
March 27, 2013
There is a map on my wall
With pushpins jutting out of it,
Begging for attention.
Red for the places I've been,
Blue for the places I wish to go,
White for the places I am from.

I have two problems:
First, I have run out of blue pins.
I really should just paint the entire map
the dark cobalt
Found alongside the muddy brown
of Nonna's tacky collection of ceramic ducks

But, more importantly,
I feel like I am cheating when I look at the
four white pins:
Verona, Italy
Biel-Bienne, Switzerland
Willemstad, Curacao
Groningen, The Netherlands.
The pins jut out of the map
Like the pearly white teeth of my ancestors.
But they are spread across continents,
They don't fit in one jaw.
They never touch,
They can't tell stories together
So I'm left, feeling lost,
Lonely teeth glaring at me from all directions
Because "Where are you from?"
Is anything but a straightforward question.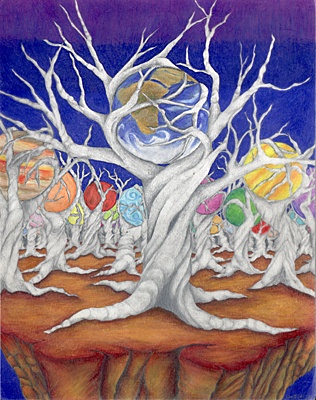 © Sara P., Lake Mary, FL