Tranquil Beach Walk
October 11, 2012
The air was crisp with the memory of rain. We tied our rain jackets around our waists and let our bare arms embrace the moist breeze. There was no one else on the path; the vacant wooden platforms meandered around the curves of cliffs and beaches as far as our eyes could see. On one side of us lay a cemetery, ethereally beautiful in the morning light. Bright mist drifted over it, as it did over the rest of the land, but against the white of the tombstones it seemed even more luminous and mysterious. What a peaceful place to rest forever, I thought. Every grave was gently nestled in the slope of the hill, looking out on the ocean.

The ocean was vast and deep blue. In the distance, it crinkled over the horizon and out of sight. Closer to us, the wind stirred the water into a frenzy, whipping them against the rocks. The spray flew into the air, droplets flecking our faces. We licked our lips and tasted the slightest hint of salt, tangy and wild. The constant rhythm of the thundering crash followed by a soft hiss as the water receded lulled us into a state of semi-consciousness. The only thoughts running through our mind were the lullaby of the ocean and the tapping of our feet on wood. We were relaxed and carefree, here in this isolated serenity, so far away from the loud noises and constant movement of the city.

We continued on, heading towards the mismatched houses spilling down a distant hill into a small cove of golden beach.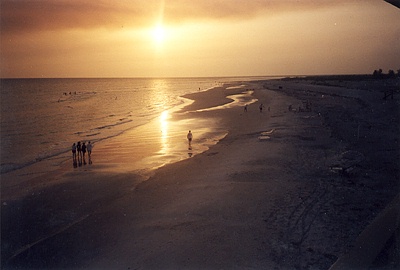 © Sara C., New Port Richey, FL