Instant Makeover
January 19, 2010
Shimmer. The sea.
Shade. The trees.
Shy. Me, no more.
Bathed in the warmth of a June afternoon, I sat on a heart-shaped rock, savoring the chocolate sundae melting in my mouth. I listened, and I heard the song of friendship, of understanding, of freedom. My heart rippled with the waves, my legs kicking back and forth to my inner rhythm.
Beside me was Karen, whom I had met two weeks ago at the International Airport in Montreal. Karen had a spirit, a devotion, a fervent passion for music. She encouraged, inspired, and changed who I am inside.

Among all places, Domaine Forget, a remote, quaint town in the countryside of Quebec, gave a voice to my soul, my heart, my mind. The first night, having travelled across the country, I tossed and turned and could not fall asleep. I thought about the bird songs, the starlit sky, and the scent of nature drifting into the dorm.
Drying her hair with a floral tower, Karen woke me at five-thirty the next morning. At six, we ventured down stone stairs to uncover the hidden practice huts. Music emanated from various huts as if invisible musicians were serenading Karen and my entrance into the sacred land, our souls.
Dancing like Christmas elves, notes tumbled out of my fingers. And I was unaware of the time until Karen knocked on my door and called, "Stephanie! It's eight. Let's go have breakfast!" I bounced down the hills, immersed in an inexplicable euphoria. When the corners of my mouth curled up involuntarily, I found that laughter too tumbled out effortlessly in this surreal realm.
At eight-forty-five, I reloaded my bag with supplies for the masterclass. I brought more pencils and pens than I had hands to use them. I stroked the sleek cover of my notebook. I knew my piece inside and out but I still did not feel ready for the masterclass with Elaine Douvas, the principal oboist in the Metropolitan Opera and the oboe teacher at the Julliard School of Music.
I confided in Karen, who received my excessive anxiety with empathy. At that moment, I realized that Karen shared my world. We prized classical music, while our peers worshiped rappers. We knew that Elaine Douvas was not merely a name, as it would be to my friends at home.
As the day, the week, unfolded, I discovered a comforting truth: There are people who still love Mozart, people who spend hours making reeds, people who prefer practice to hangout, and people who will understand when I do all of the above. I felt less vulnerable at Domaine Forget. I felt as if I truly belonged. I could finally smile and sing my heart out on stage.

On June 25th, 2009, any physical trace of mine at Domaine Forget evaporated. Others' footprints had since replaced mine. Other musicians had since performed in "my hut". But I hope that all took away from Domaine Forget the same ineffable confidence now ensconced in the corner of my heart.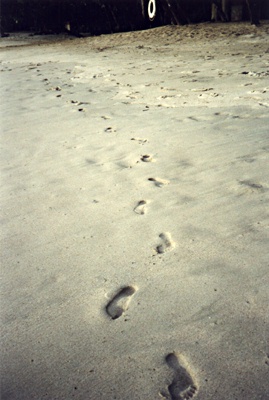 © April W., Rogersville, MO