York
MAG
The soft clink of tea cups and the constant buzz of voices fill the air, adding a peaceful feel to the small restaurant. My mouth waters as I look at the cakes and pastries that line the window - frosted buns with cherries, fresh fruitcake with icing, still-warm cookies. I am in Betty's Tea House, the fanciest tea room in York, England. It's only ten in the morning and already almost every table is occupied. I wish I could stay a while, but Mom and I are supposed to meet Dad and my brother Chris back at our flat for lunch, so we'd better save our appetites.

York is one of the most spectacular cities I've ever visited. Located on the Os River (pronounced Ooze), it was a major military town in the Roman Empire but then was conquered and controlled by the Vikings for hundreds of years. Today it is a thriving college town, a beautiful city with a fantastic history, a city to which I long to return.

The city's creativity is one of the main reasons I consider it such a wonderful place. Just a few blocks from our flat (flat is the British term for apartment) is a beautiful park with a playground, gardens, a stage for concerts, and a stream where ducks, geese and pigeons strut, begging locals and sightseers for scraps of bread. A small river flows by, a tributary to the Os, and is crossed by the modernistic Millennium Bridge.

York has Britain's most complete Roman wall, and from it you can see inside the downtown area. The streets are lined with vendors selling everything from fruits and vegetables, pastries, and handcrafted aprons to ceramics, baseball caps, and Barbie dolls. At one end, looming above everything, is York Minster, an amazing architectural work complete with a stained glass window with the most pieces of glass in the world.

Of course, it's not only the city's beauty that makes York so fantastic, it's the surrounding moors and dales of Yorkshire. On a bus full of chatting teenagers, I make my way through the beautiful fields of Yorkshire, then take a train into the moors to hike two miles past quaint cottages, farms, bubbling brooks, and bleating sheep. When the walk is over I can only look forward to tomorrow's hike through the dales (valleys) in northern Yorkshire.

My final outing in the area is to the coastal town of Robin Hood's Bay, which easily outstrips the other two regions in beauty and interest. The rolling fields and yellow wildflowers extend right to the edge of the massive cliffs, and the crashing waves lap at the heels of the almost too-perfect town of winding cobbled streets and small shops.

The British way of life seems far more sensible and meaningful than in America. Small businesses thrive, sprawl is controlled, and the beautiful countryside remains intact. The Brits are friendly and understanding, and if everyone ran their country this way, the world would be a fantastic place.

On my last morning in York I pull on my windbreaker and ask Mom for some bread so I can feed the birds and say farewell to town. As a brave pigeon hops on my knee in hopes of more food, I wonder if I'll ever return. In the next week I will continue my travels into the Cotswolds, but I know I will never forget this place.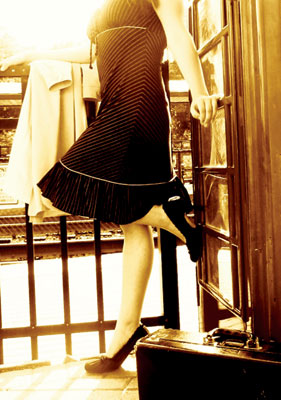 © Anonymous