A New York Dream
MAG
Three days were all I had to explore New York City. Standing in the middle of Times Square looking up at the billboards and lights, Broadway, Wall Street and Fifth Avenue - all places I had read about - were within walking distance.

My group was leaving and I had to run to catch up. Weaving through the throngs of people, we made it to the restaurant. Out of breath, I smiled and took out my camera, not caring if I looked like a tourist. Seated in a booth next to my best friend, I had time to think about the day. We were going to the Metropolitan Museum of Art, a place I had read about and seen on TV. I was so excited I could hardly eat. All my life, I have imagined New York City as the perfect place to live. It was all dolled up in my mind, but turned out to be even better than I imagined. I fell in love with the busy, bright, fun, every-day-is-something-new atmosphere of the city.

From the restaurant we took a bus to the museum. I stared out the window, ignoring my friends and daydreaming about what I would do if I ever returned. My breath caught in my throat at my first sight of the MMA. It was magnificent. I walked up the steps to where a group of adults were listening to a lecture. I eavesdropped and heard the amazing history of the museum. The group's leader smiled and asked if I would like to join them. I was about to say sure when my own group carried me away, but my disappointment was forgotten as I stepped inside. The paintings, sculptures, drawings and art took the breath from my lungs.

My friend and I wandered until we realized it was time to leave. We also realized we were completely lost. An employee told us how to get back to the front, but following his directions, we ended back where we started. We asked again and got new directions. I looked at the clock and knew we were late. We ran as fast as we could, getting yelled at as we went, but we managed to get to the bus just in time. With one last look at the MMA, we were off.

Later, walking through Central Park, its beauty made me lightheaded. I walked by the lake and through Strawberry Fields, taking snapshots here and there of the people. So many were out and about; nothing is ever dull in that city.

Our next stop was the Broadway production of "Beauty and the Beast." I didn't think I would like it but it was amazing. Back at the hotel I couldn't sleep, I kept thinking that the next day would be my last to explore New York. When I finally fell asleep, I dreamed of visiting again when I am older.

When morning came I practically had to slap my friends awake. I didn't want to waste a moment of our final day. First our bus took us to Ground Zero. The place where the towers stood is now just a pile of dirt. I wondered how anyone could hurt this city that I had fallen in love with.

Then we took a tour all around the city. Seeing Julliard, dance studios, and fashion showrooms was amazing. I loved it but discovered I was the only one listening to the tour guide since everyone else had fallen asleep. Then we ate lunch and I finally had a chance to have fun with my friends. The next day we would return to boring, dusty, hot Arizona, my home that I did miss and love, but I would also miss the city so much.

On the way to the airport I looked out the window, memorizing every last view of the city. I'm still hoping that I'll return. New York City feels like a dream that I had once upon a time.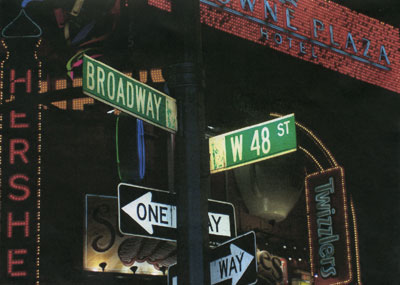 © Anonymous