Peace Among the Stones
MAG
I saw it, though I did not know what it was. The old city of Prague in the Czech Republic was beautiful, but it was not where my attention was focused. From the hillside where our group stood, I looked past the staggered roofs of red clay tile and the beautiful gardens. In the center of my view was a small, gray area. It almost looked like a splash of dark paint had found its way onto a magnificent masterpiece. I stood, wondering what it could be. As if reading my mind, someone asked my question.

The answer: it was where we were headed, the Old Jewish Cemetery, founded in 1478. Our group descended to the city and wove through its maze of cobblestone streets. I imagined what it would be like to stand among the 100,000 graves and began to dread what was coming.

When we arrived, we were told we would tour the Pinkas Synagogue, which was a memorial for Jews from Bohemia and Moravia who had been killed by Nazis in World War II. I did not know what to expect and was a bit worried, but once inside the memorial, my fears disappeared. We had been told that everyone needed to remain silent in the rooms on the first floor, and as soon as I entered, it was apparent why. The rooms were empty, but the walls told thousands of stories. From top to bottom, the names and communities of the Jews who had died covered the marble surfaces. Their solemn faces stood as a testimony to the murders of so many. I had never seen anything like this, and their impact will never be forgotten.

Finally, our group was shown from the building into the cemetery. I joined a group of my friends, not wanting to walk alone. Going through the gate felt like passing into another world. It looked as if a violent upheaval from the earth had shaken the cemetery to its roots. Tombstones overlapped and supported each other. All the stones varied in age and style, but each was beautiful. A sense of peace permeated the air, the trees and the tombstones themselves. I became bolder and broke away from the safety of my group to experience the serenity of this place.

Alone, I walked along the path silently with my camera in my backpack. I didn't feel it was right to take pictures here. The feelings I took from the cemetery would be more than enough. I would never need a photograph to remember how that place made me feel or the peace I drew from the chaos of the scattered stones.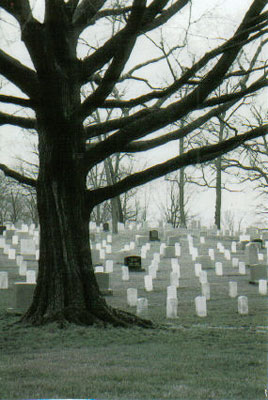 © Mary G., Ridgway, PA