Our Town
December 8, 2009
Welcome to Chesterton, our town. Lots of people live around here, from lots of different backgrounds, living together in a pleasant sort of jumble. It's not a very large town, as far as towns go, nor is it a very small town. People around here are friendly enough. They wave hello to dog walkers when driving through the neighborhood, and open doors for others at the local Starbucks. At first glance, one might think the people of Chesterton are carefree.

There seems to be a little bit of everything here in Chesterton. There's the Theatre, packed to the brim every weekend, sometimes with laughter, sometimes with tears, but always with applause. Quite a few fast food restaurants too, from the McDonalds to the Subway. There's the usual hang out spots for the local teens too, particularly by the Cold Stone and California Tortilla. There's always bound to be somebody skateboarding down those steps. Then, there's the library, packed with studying students every weeknight. I wouldn't say people don't get out much, because they do. To the Regal every Friday to see the newest movie, or to Richmond for the fancy restaurants and city lifestyle.

And the people, they're all pretty much commonplace. They wake up in the mornings, just like everyone else, and head off to work or school still half asleep. They eat their dinners come nightfall, and and head off to sleep just a bit later. There's nothing unexpected about Chesterton and all who live here. But they've all got one thing in common—worries, about the future in particular. There are those who exercise everyday, constantly jogging down the block or heading to the Norbeck Hills Club. They're the ones who always order salads and never dessert. They're worried, about becoming obese, and the health implications that go with it.

And then there's the people who go green, all out. They're so concerned about the environment, and how Earth's temperature is rising about one degree per year. They're the ones who organize the community car washes, all proceeds towards the environment, and hand out the "save the wolves" fliers outside of the Giant. They too are concerned about the future, about what the Earth will look like in another hundred years—which species will be around and which won't and the like.

And last of all the major worriers comes the students. They slave over their homework, packing the library, and stress over college applications come fall. They're uneasy and concerned, about getting into the right college and choosing the right career path. . .that sort of thing.

It really makes one wonder, don't the people of Chesterton ever get tired of worrying? Why not take life and enjoy it minute by glorious minute. Because before these people know it, the future will whoosh on by and then poof, good bye to all the simple things. They're terribly missed then, I'm sure.

And so, whoever reads this even a thousand years from now, you'll know all about Chesterton, about how people acted on a day to day basis, from how they spent their Fridays to how they spent their worries. Now you'll know, future Earth residents, all about us. Maybe then you won't worry, maybe then you'll enjoy life as it comes in all its blessed simplicity. But that's highly unlikely. There is, of course, human nature to consider, and this particular aspect of it very rarely seems to change over the years.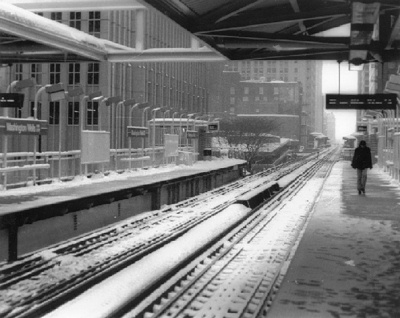 © Al J., Mt. Prospect, IL