Disgusting
MAG
March 2, 2019
The further we drove into the White Mountains, the higher the walls of jagged granite and slate on either side of the winding highway grew. I was still in awe of the mountains I had seen so many times before, but I couldn't help feeling like my heart was shaking with anxiety. Soon I would have to leave the school bus that brought 50 chattering students out into the wilderness like every year before.
It was sophomore year – my second Outdoor Experience trip that every student has to go on. That year, we had a choice of what difficulty level we wanted: one through five. My friends and I had agreed that one would make us seem lazy and that challenging ourselves would make for a good story. In choosing level two, we believed that we were only sticking our big toes out of our comfort zones and that it would still be a fun experience.
We were quickly proven wrong.
My group consisted of my friends, Riley and Annabel, and six extremely fit athletic boys. We arrived at the base camp lodge. Whoever made the group must have had no idea what they were doing. Three of the most nonathletic girls in the class of 2019 were forced to trail behind a herd of long-legged jocks. It felt like the plot of a sitcom. After quizzically shoving things aside and rearranging our bags to accommodate food like hummus, cheese ("How will that stay good?") and vegetables for the next four days on the Appalachian Trail, we made our way out into the wilderness.
The three of us girls were questioning if this was really a level two. The trail was incredibly steep and rocky toward the peak of the mountain where the first hut was located. We were practically jogging in an attempt to keep up with the boys ahead of us. Our trail guide encouraged us to pause as often as we needed to drink water, but that wasn't helping our pounding hearts and heavy breathing as much as it should have.
Then, 30 minutes into the most difficult hike the three of us had ever done, Riley tripped on a tree root and landed on her knee. When she broke into tears I didn't know if it was because of the pain or because of how frustrated she was. After a few moments (filled with hushed voices from the boys), we were headed back down the mountain as it was decided that Riley could not make the trip with us.
I couldn't help but feel angry. Whether it was at Riley for causing the group to backtrack all the way down mountain, or because of how misleading the label "level two" had turned out to be, I wasn't sure.
We sat on a patch of grass outside the lodge where we had started while Riley was brought inside to join the level one group until her aunt could come pick her up. Annabel and I exchanged breathless glances, our cheeks red and wet with sweat.
"Do you think we should ask if we could join the level one group too?" I asked Annabel without looking at her.
"I honestly don't think they'd let us," she breathed out, looking at the grass as a mist began to fall.
Everyone was in a bad mood from losing all of our progress, but we started up the trail again, Annabel and I dragging along our now heavy hearts. Our bags felt heavier. My legs burned, my back hurt, the strap around my hips weighing me down. I had never wheezed before in my life until then, and tears threatened to spill over my sweat-covered eyelashes. I couldn't think of anything more humiliating. A part of me was glad that Annabel and I were experiencing the same thing, though. It made me feel less alone, although it didn't stop me from crying during a break that our guide made us take. She saw us struggling to breathe and wanted us to sit down. Annabel and I sat next to each other on the side of the trail, dirt and pebbles sticking into the backs of our burning thighs.
I wanted nothing more than to turn back and leave right then and there. The frustration and humiliation were overwhelming me. But, I couldn't; I didn't want to be someone who gave up easily. It was only the first day. Once the sun set, there would be no way for me to turn back.
Sitting at one of the long wooden dining tables in the hut, Annabel and I were speechless. We stared at each other with hollow glassy eyes, occasionally a tear or two sneaked out.
I wiped the tears away every time one escaped, making sure no one saw. I slouched over the table and rested my chin on my hand, turning toward the panoramic view of the sunset. Splashes of pink, orange, and red faded into a sea of deep blue clouds above the mountain range. With the ghost of a smile on my lips, the last flicker of sunlight danced over the treetops.
Tomorrow will be better, I thought. It needs to be.
The next days went by, but not without their lows. These lows, though, became comical to Annabel and me. For the lunch break of one particularly abysmal day in the mountains, our group found ourselves having to eat a bruised, warm cucumber. Legend had it, it had been shoved into one of Zane's dirty socks at the bottom of his bag. When you're hungry enough, you'll eat anything.
Annabel and I still found ourselves trailing behind the boys. Instead of embarrassment, I felt as though I was gaining more out of the trip than anyone else. As the boys ran, Annabel and I hung back and took breaks, admiring the views from high above, watching green valleys appear as curtains of clouds pulled away from one another.
I can proudly say that I climbed Mount Washington and crossed the peaks of about seven other mountains, once conquering four peaks in a day. Every time I see a car in New England with the bumper sticker reading, "This car climbed Mount Washington," I smile, sometimes reminding my friends or family around me that I, myself, climbed Mount Washington. Not without tears, spraining both my ankles, eating unrefrigerated perishable foods, and accidentally tearing the underwear I was wearing in half, all while hiking – but I did it. F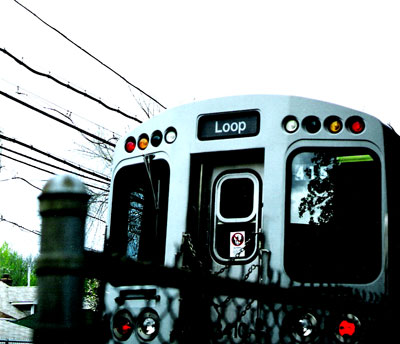 © Alyssa V., Chicago, IL