A Beach
October 30, 2018
I went to a beach last summer.
The air smelled quite salty, which was probable, but there was also the smell of grass near the cliffs we had to climb up to get back to the car. The cliff also had sand which was probably caused by erosion, and it also had bushes with some green leaves growing even though it sloped down.
It was a bit cloudy in the distance, but the clouds were far enough that the sun was able to shine through. There was a slope of sand we had to walk down to get to the beach, and a dog was sniffing around. The sand wasn't too course but it wasn't too soft either.
There was also a small river that led to a cave, which had a pond, and there was a huge tree trunk suspended over the river. When I observed the sand closer, I found oyster shells, seaweed, and what I think was twigs that had fallen into the saltwater.
The pond had very tiny fish in it, I think they were minnows. They would never be able to escape the pond. The current from it was too strong, and so was the river. On the rugged sides of the cave, there was graffitied things that were quite dubious, like random numbers and letters. The inside of the cave was obscured with the darkness, and there were two platform-like edges on the sides, that we could use to stand on and peer inside.
My father stepped into the water and said it was cold, so my brother and I were curious and followed him as well. It was a bit cold, but the refreshing kind. The kind that often felt nice when the day was hot. I waded through the water over to the log and pulled myself over it. I waved to my mom and sat on the log while enjoying the view between the shore and cliffs.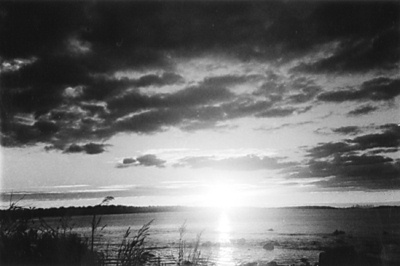 © Christy S., Germantown, MA