I Am Not a Ballerina
MAG
June 18, 2015
I am not a ballerina.
Ballerinas are the gems of the dance world, the queens of their companies, the stars that ignite the dreams of little girls. They glitter too brightly, burn out too quickly, once illustrious careers quickly demolished by the ravages of time and aging.
I am not a ballerina.
I am a student. We huddle in the corners of the studio, watching with envious, greedy gleams in our eyes, dreaming of the day we too will have a spotlight shining on us. We admire, we covet, and sometimes we dare to believe that we too can succeed.
I am not a ballerina.
Ballerinas have strong work ethics and wills of steel. They give up their childhood in the single-minded pursuit of brilliance and perfection. There are no sleepovers, no school dances, no boyfriends, no time. Some leave their families and set off for distant cities with nothing but a faint thread of hope. All of them cling to the idea that enough sweat, tears, and bloodied feet will some day propel them to stardom. And some do emerge victorious, holding contracts to celebrated companies with beloved choreographers. They are the trailblazers, pushing the boundaries of the human body. The rest of us follow their path, stepping tentatively, carefully. We spend Friday nights trapped at the studio, rehearsing scenes "Just one more time, girls!" We watch their YouTube videos on repeat, marveling over daring tricks and dazzling turns. And we wish we were them.
I am not a ballerina.
Ballerinas are creatures of beauty. They waltz with long, lithe legs and thin, willowy arms. There are no curves to speak of, nothing to detract from the simplistic beauty of a position, a step. They are blessed with arched feet, hyper-extension, and a disgusting amount of flexibility and turn-out. Things that we, the less fortunate, subject ourselves to torture in our attempts to imitate. We do homework in splits, cram our feet under couches to bend our arches, and peel ourselves out of bed in the morning to go running. But some things are ingrained in us so deeply that we cannot change them. We are not all thin. We are not all white.
I am not a ballerina.
Nobody knows my name. Ballerinas are famous, if only among other dancers. Their names are evocative, synonymous with their talent. Svetlana Zakharova conjures up images of sky-high extensions. Isabelle Ciaravola is arches, too bendy and flexible for this world. Misty Copeland is a pioneer, a colored face in a pale, pale sea. And of course, there are the legends – inimitable, infamous, so popular even pedestrians (a derogatory dancer term for non-dancers) have heard of them – Anna Pavlova, Rudolf Nureyev, Margot Fonteyn, Mikhail Baryshnikov, Sylvie Guillem. People cried when Wendy Whelan retired from New York City Ballet, when Maya Plisetskaya died last year. I certainly cried.
I am not a ballerina.
But I am trying.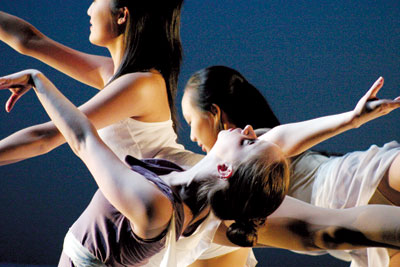 © Josiah T., Allen, TX