My Kind of Thrill
November 23, 2014
In through your nose, out through your mouth.
Spiked with the anticipation of fifteen other teams, the hot, dusty air of the track in the summer floods my nose, over and over. Deep breath after deep breath, I'll never mind this routine so long as I'm here on the track. It wouldn't be the same without my mouth tasting like flavored water left unfinished, either; a combination of 5 Gum and the small amount of Hint water I manage to get down next to butterflies hurling themselves around like pole vaulters in my stomach.
           This nervousness not unfamiliar; here I am once again, pressing my spikes into the remnants of the red lane and gripping the baton tighter than I would my own life. I'm more scared to drop this than I'm scared to drop my phone, and it's already slick with sweat. Reaching back to wipe it off on my uniform, little particles of track material embedded in my skin flake off my fingertips.
            With a drop of my shoulders, my gaze breaks from how intimidating the four other runners look in front of me. After all, they're Class LL champions: people that I always admire, but never race next to. But with my head dipped the right way, mostly all I see is the fuzzy outline of my glasses, and the rest of my body crunched in the set position. I'm uncomfortable in just the right way: my body bent between the starting line in front of me and my blocks behind me. With everything cramped just so, I'll be able to explode forward when the gun goes off.

In a track meet, the gun is not like a shot. It's short and fast, just like my reaction to it is supposed to be. I don't hear the sound pounding in my mind for seconds after; it doesn't send me reeling backwards. It sends me driving forward, all power and anxiety and adrenaline.

"Go Marissa!" Jayyona shouts behind me, and I run on the wings of her words, like I've never known anything else.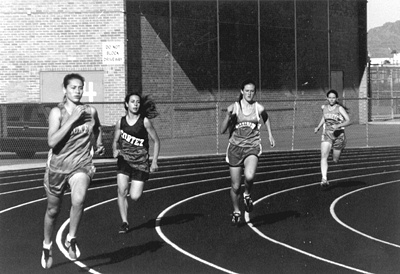 © Lauren J., Phoenix, AZ