Tony Azevedo & Water Polo
November 17, 2014
Anthony Lawrence Azevedo was born on November 21, 1981, in Rio de Janeiro, Brazil. He was one month old when he moved to California. When he was just four years of age, he suffered a fall that caused his heart to stop beating for a couple of minutes, until doctors revived him. Due to this, he was supposed to never play sports again, however, he recovered and continued his life to excel in water polo. Azevedo attended Wilson Classical High School and after high school he was accepted to play for Stanford University, where he led his team to win two NCAA titles.
Tony Azevedo once said, "Leadership is an action not a position." Having a difficult and exhausting sport, such as water polo, as a career can sometimes be a good thing. From this experience, the thirty-two year old has gained strong leadership skills. Azevedo is currently a starter and captain for the U.S. Men's National Water Polo team. He was also nicknamed "The Savior" at one point. Some players lose themselves in all the fame and fortune; however, Tony has remained humble and caring through all the milestones.

Being team captain was never an easy task. Tony had to gain his team's trust by always being there for them with concern nonstop. You cannot miss a game or be overconfident in yourself. Constant attendance at practice is required because your team now looks up to you. If you miss practice, it's going to be seen as lack of care and others will start not showing up also. In other words, the weight of the team is on your shoulders. Tony Azevedo's sportsmanship has benefitted the team's performance in games and practice through his good vibes.
This Brazilian water polo player has been involved in this sport since childhood, therefore, Tony is more of an experienced player than others. During the 2000 Olympic games, he was named as the youngest U.S. Water Polo player in history, scoring 13 goals. He also helped their team to victory in the Croatian Championship the night before his first son was born in 2013. Even though being as advanced as Tony is, has its perks, such as being awarded with trophies and certificates. However, Tony remains humble and continues his great legacy with his entire team. Azevedo has all the traits that makes him a great leader, being responsible, presentable, modest, caring, etc.

Over time, leaders have known to be dictators. Your team is similar to a democracy. Everyone has a say in what goes on and if you try to overrule your teammates, you will be replaced. Leading the team by taking control with care and passion differs from acting as if you are greater than everyone. Strong communication is what keeps the team strong and going. Your teammates should be able to tell you about their ideas with you willing to change some things around. Leaders need to have strong characteristics; they need to be bold, caring, and appreciative. Luckily, Azevedo has all of these crucial skills that's needed to be a leader.

It's clear that being a leader or a teammate isn't very easy. This role requires you to think about people other than yourself. It's thought to be that the best player on the team becomes team captain, however this isn't technically true. Yes, you have to have experience in order to help those around you, but you also need to have what it takes to become a leader. Tony Azevedo is one of the many water polo players that have reached many achievements during their careers and can be looked upon as a role model.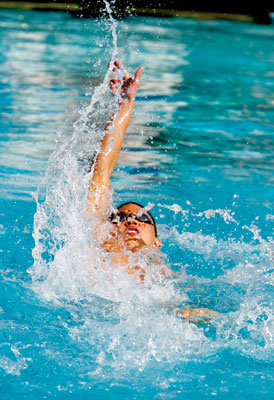 © Wenting C., Fremont, CA