A Dream Within a Nightmare
MAG
Your hands are sweating, your feet are throbbing, and your back is screaming to stop. Behind all of this is a gymnast. Add iron and steel to beauty and grace and stir in the will to win with a positive face. Blend in love for a sport, fold in bruises and bumps on your skin. Mix in soft flowing arms and straight, pointed toes, with a twist of the head to complete the pose. Pour in loyalty and dedication for the rest of the story, for an athlete is striving to fulfill a dream.

Many people describe their first love as a person or a possession. My first love was a sport: gymnastics, the most difficult and dangerous sport known to humankind. I trained for the Athens 2004 Olympic Games for two years. I was to become a member of the United States National Team and train with the most memorable coach in gymnastics history, Bela Karolyi. What I thought was a dream come true became a nightmare.

Ever since I was little, I wanted to meet Bela Karolyi and be one of his gymnasts who walked to the pedestal for a medal. When I was seven, my best friend and I joined a gymnastics club. My mother said I was a fast learner and advised me to stick with it. I was also told I have natural grace; I could dance on air and tumble with ease, something rarely seen in this sport. I'd found something that made me happy.

When I turned 13, my coach's former college roommate, Mark England, visited from his gym in Austin, Texas. He seemed to watch my every move, and after practice, he asked if I would like to be part of his team and train with him. I was reluctant because I was afraid to leave my friends and family, but, I finally decided to live with a family who also had two gymnasts at his academy and train with the National Elite Gymnastics Team. My parents said that if this is what I wanted, I should make my dream come true.

If I had one word to describe what I felt, it would be pressured. I went from practicing a relaxed 12 hours a week to an agonizing 36 hours. It felt like a chore. We ran and conditioned from 7:30-9:30 a.m., and our regular practice ran from 3-8 p.m. The team attended a university charter school from 10 to 2:30. I only saw daylight on Sunday. Returning after a long day to an unfamiliar house tore me apart, even though my host family was warm and generous.

Time, effort, pain, passion, strength and courage - I sacrificed it all for the love of the sport. Airports became my third home. Flying from Austin to St. Louis and then to Detroit became my vacation every six weeks. I would stay for 48 hours and then return to Texas. It was as if I were bonded to gymnastics and couldn't get free. Strength under pressure was a large understatement. This was the equivalent of a nine to five job, with extensive overtime and no sick days.

Never underestimate what's possible, because in 2000 I won the Pikes Peak Cup in Colorado. Never before had I been so caught up in the heat of the moment. Nothing could break my confidence. I didn't know it would be the last competition I would compete in.

Unsinkable ships can sink and unbreakable walls can break. When you think you are in the clear and nothing will get in your way, that's when it happens. Two days before the level nine regional competition, I severely fractured my skull in an equipment failure. I was pulled out of gymnastics for 10 months because the injury upset my equilibrium and caused dizzy spells. I missed that season and a large portion of summer practices. This major setback turned me into a couch potato.

Thoughts of giving up overwhelmed me. Picture a quiet 14-year-old girl at a tiny 76 pounds, being weighed every morning, and receiving crude insults from a coach, not to mention homesickness. Then add on months of lying on a couch forced to do nothing when you could be at home where you were greatly missed. It became clear that my mind and body were not cut out for more years of this. My coach had always told me either to go hard or go home. Perhaps it was time to do what I wanted, instead of what everyone else wanted.

Though appreciative of my Texas family's hospitality, I left Austin in December of 2001 and returned home. Walking through my front door never felt so good, and from everyone's faces, I could see they were glad I was home, too.

Success begins with your will - it is all in your state of mind. Who I am today reflects places I have been, battles I have won or lost, and lessons I have learned. I have the heart of a champion and the soul of an athlete. Most of all, I have matured into a responsible, respectable and independent person. I have learned to take risks knowing I may fail, and never to stop short of a goal. I do not let anyone or anything come in my way of my dreams. Opportunities are like Kodak moments, only captured when one is prepared to take the shot. So I dare to dream - I dare to succeed. Life's battles do not always go to the strongest or fastest; the one who wins is the one who thinks they can. To say the least, what we do in life will echo in eternity. Dream your dreams and make your wishes, but turn them into reality. Happiness, dreams, success and enthusiasm - I gained it all from the love of a sport.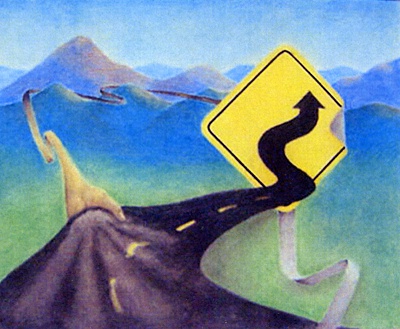 © Tyler W., Muleshoe, TX