Inside the NBA Bubble
March 16, 2021
How would you feel if you had to leave your family and friends? Lonely, bored, sad? These are some of the feelings NBA players had to experience when they left all of that behind for many months. NBA players had to deal with abnormal experiences in the bubble due to COVID, including minimum socialization and no fans. In the end they made the best they could out of it and turned a negative experience into a positive one.
No one to talk to, no one to hang out with, what would you do? In the bubble that is what happened. Players had limited time everyday to talk with teammates in person and could only call and facetime family. They were technically self isolated from people in their hotel room. The only time players could socialize with teammates was practices, games, and activities. Tadd Haislop, from Sporting News, stated, " Nobody in the NBA bubble is allowed to have guests-at least not yet. Things will change when playoffs come around." Haislop's article was written in August 2020, but still gets to the point of no real socialization. He also said, when the playoffs were starting, "The NBA and National Basketball Players Association later negotiated new terms that, per ESPN, will 'allow as many as four guests per player' with 'exceptions for children.'" Even though they could have guests come during playoffs, they were still isolated for the most part. Not only was there no real social interaction, but there were also no fans to cheer them on.
No crazy fans, no loud cheering, just a peaceful silent arena. Even though the stands would be empty, the NBA wanted to try and make the players feel like they had a crowd cheering for them through the jumbotron, but some NBA players and coaches felt that it was weird. In an article with NPR, Javale McGee told a reporter that it began to feel weird without seeing the crowd, but hearing their cheering. Celtics head coach Brad Stevens agreed with McGee, saying that he thought that NBA fans should hear player interactions instead of fake crowd noises. Finally, when the finals came around so did some human noise. The NBA let spouses of players enter the bubble to watch them perform in the last dance of the season. Although it was tough without the loud crowd, players still got through it, even while wearing masks a majority of everyday.
Although players and coaches had to leave family to go to Disney, they made the best they could out of their trip. Some players, such as Javele Magee and Matisse Thybulle decided to document the life inside the bubble. For example, some activities were golfing, swimming, fishing, hiking, playing video games, and team practices. Other players made the best of the trip by deciding that they were going to convert hotel rooms into different things. One room became a barbershop, while another became a spa.
NBA players had to experience something different than normal in a bubble last season. Although there was minimal socialization, no home courts and no fans in the 2020-2021 NBA season, players did the best they could to make the best out of the new normal. No family, no friends, and even no fans. Clearly this was a difficult time for the NBA players, but they stayed strong together and made it work.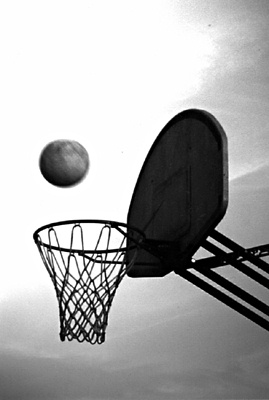 © Cassie H., Carmi, IL