Hiking Through Hardship
May 26, 2018
Introduction from the Author:
I was exhausted before it began. I was located in Utah at wilderness survival training at the time. Our group had already trekked through the scorching desert, the treacherous mountainous terrain near salt-lake city, and finally we were going to the most enduring one yet. Each hike was at least fifteen miles long there and fifteen miles back as well. Our heavy-hiking backpacks were each at least 60 pounds to carry with us. After having not one shower or clean clothes in almost two weeks so I didn't have high expectations for our little 'expedition'. Part of the problem was the one of our team-mates. His mother sent him there for exercise and discipline. He would always complain and hold up the group for long periods of time (Minutes and sometimes even hours). Anyway, this is the story of my adventure and frustration but also perseverance and passion in Utah. I was only 90 pounds at the time so this was a test of strength: mental and physical alike. So without further ado let's dive (Or hike(Painfully)) into my journey.
Part 1: Dust T'ill Dawn:
When we stopped I was expecting a vast terrain of trees and pines stretching across the landscape and horizon filling me with the refreshing scent of an evergreen forest. It was about 2:00am in the morning. We were actually late because we were supposed to be out by 1:00am already hiking. Once we put on our portable 'back-breakers' (We called the packs that) or backpacks we look around at our 'forest'. Naturally (In both forms of context), it was all desert and cacti surrounding the ranch-like barren land. "Hey, um... isn't this supposed to be the forest?" I asked unsure if the guides were playing a nasty trick on us because we couldn't fill our water bottles the day before, when we were preparing and rationing our food. Oh, did I mention how we got our water? Well basically we would find any source of running water and fill-em up and of course add purification tablets. One time however we were at a cow ranch area. The only water was a still lake filled with cow-patties. No matter how many times I filled my bottle I could never get the cow's poop out of it. It was also thE only water there so it's either drink or die. My thoughts: Eeeergrrg!! And also permanent trauma. But nevertheless we were in no cow-pattie lake area. We were (however) in the desert that was apparently: 'a forest'. I wondered if the guides did some off-camp partying with substances the night before... The guides answered my question though, making me only slightly relieved. "Well... We'll get there eventually...". And eventually we did... more on that later.
We started our trek on a dirt road of dust and but also sweet smelling lavender (not edible though). We trek almost 100 meters until our trusty whiner and group member Kevin started to complain. Now look, I'm not trying to be mean but he was in bad-shape physically. I was smaller than him but he was more top-heavy so I had better balance. Anyway, we luckily stopped only for 30 minutes once or twice when he flopped in frustration saying he: "Was giving up" or even better yet: ''Needed a break because of 'heartburn'". This was already proven to be un-true however because his mother (I blame her for sending him) wrote a note to ignore all false medical claims that Kevin claimed himself was true. Sometimes I made fun (I was so tired and he literally held our group up for at least 6-9 hour total there and back every trip we went on) and made up excuses saying "I think I'm g-gonna pass-out from scarlet-fever and Malaria".
Hey! I needed to vent my rage somehow. Anyway we were lucky to get moving again after the half-hour was up and we saw him over on the horizon whining and walking as the guides had to be patient with him and also stay with all members at all times. After about 8 hours of intense climbing and hiking with a bonus 1 hour of Kevin-Breaks (We also found water because we found a small stream! Yay!) we saw a huge cluster of dark pines and evergreens ahead. I was excited and hungry. We made it! The guides set up for lunch at a small camp-site. We brought out our rations and I cooked some beans and rice with a cheese-stick in the middle (Cheese-sticks were like gold here. You protected them with your life) and watched as it slowly melted into the mixture satisfyingly.
After I eat and rested for 10 minutes and felt a bit energised to do something (Like sleep.) but before that happened a the one of the guides told us something I really wish I wouldn't have heard. "Ok guys! Pack everything up! We're moving on!" said Barry (My previously favourited guide. (Not anymore... )) . At first I thought they were joking. They did that occasionally. It was then I realised they weren't. See, the thing is about complaining here is that it's a huge of waste of energy, there's no point because any energy left has to be saved for the hard-stuff like hiking. All of us had figured this out except for, you guess it, Kevin. Sadly, we usually got a Kevin-Break right before we left to hike. We waited for 10 minutes (A new record in speed! Yay!) with our packs on whilst the guides tried to persuade him to stand-up and get his pack on. All of us knew complaining out-loud made it worse. We just sat in silence on the edge of the hill and to be honest it was beautiful. I saw the vast landscape of Pines sprouting up like spears, the fresh, clean air of them wafting into the air filling me with a new-found motivation. I almost wanted to stay there and relax bathing in the mid-afternoon sun watching the trees swish back and forth when Kevin was starting to walk towards us. I put those feelings away though and set my mind on the feeling of grit and determination to finish the hike to the main campsite.
We passed a ranch of cows (Trauma-Alert!) and saw them poking their dark heads through the trees to look at us. They were cute enough to almost make me forget the little 'gifts' they put in the water. We passed a beautiful field of red and orange flowers glowing in the afternoon sun. We almost got to shade before another Kevin-Break just happened to come upon us. Some of us actually tried to sneak off down the dirt road to try to sit down in the shade rather than in the hot blaring afternoon sun. I was sure the heat would dry out of our water supply from being so thirsty just standing there waiting for Kevin to get off his butt and walk some more. Eventually a kind-hearted guide said she could 'supervise us' to the shading area of tree cover. It was (As it turned out) a longer hike than we expected. The road swirled and took a long path and eventually just to get to the shade; it took 2 hours of hiking just to get there and have shade. Thankfully and depressingly we got a really long Kevin-Break in between. So long that it was actually the dawn of a new day when he was seen hiking a few meters down the path we took before.
I was dazed and most of myself (Sadly not my full self) had fallen asleep. I'm talking about my legs, arms and basically all other semi-useful limbs I need for hiking. I shook my numb legs to first get the blood back into their systems so I could walk then and tried to get up only to fall on my butt twice with no working arms to catch me. Then I heard something. Laughing? No that didn't sound right. I looked over to see Kevin snickering at my attempts to stand up with my 60 pound backpack still on. Let me tell you that he was actually older than me at the time. I did get up though. I walked over and pushed Kevin onto the dusty road where he stayed there laying on his back shocked and trying to sit-up saying: "uuhh... I Hate You!". Which he shouted loudly enough for a guide to hear.
In retrospect not one of my smartest moves. But I did gain (Even though it wasn't from a good source) a good bit of satisfaction in my actions. What did happen though was the guide who came with us noticing what I just did to Kevin. As it turn out, I had to actually write an apology letter to him and to my own horror, give him 3 of my 9 cheese-sticks! But I did it nevertheless to continue our 'great-journey'. My brothers in arms (Also known as non- Kevin associated team-mates) were pretty angry at me for holding the group up but we were like family in a way so anger passed easily. We survived this together and only together we could continue. They needed me because I needed them and there was no time for anger, grudges, and fights in our adventures. We continued to talk and laugh at stupid jokes together (Most are not clean ones) until we were brothers again, once more bearing the weight of our packs and emotions as a singular functioning organism.
We hiked until it was 5am and we've been at it for over 24 hours at once (Not including Kevin-Breaks of course). We walked across a muddy grassland. The mosquitos were out for blood and we had no bug-spray. Finally we made it to camp. Our backs blistered, hands calloused, and throats and dry as the dusty trails we hiked across. We found our sanctuary here. A huge tipi of animal bones and trunks of large (now dead) trees created a roofed shelter spiralling up against the large trees that surrounded it. It was a wonder to behold. A gift for the perseverance and resilience against the elements of nature. That night we eat the food that we saved for our arrival. I eat 5 of my 6 remaining cheese-sticks. I didn't care. It was a celebration of teamwork. I even apologised and shook hands with Kevin and he and I conversed. It was hard but I let go of everything that happened previously. It was a fresh start. We sang horribly embarrassing camp-fire songs and our laughter echoed softly into the night sky full of shining stars. If you want a happy ending in this please stop here because what happens next makes everything else I've been through look like a sunny Disney Cruise in the Caribbean.

Part 2: The Hard Way:
I woke up inside the tipi feeling not just refreshed but calm. Something I have never wouldn't dreamed to feel here. The silence of the early morning made me realise the guides let us sleep in later. I lay down on the tarp in my sleeping bag looking at the cracks of sunlight that whisked their way through the cracks in the Tipi's structure. I tried to imagine this was a vacation where I was experiencing what the Natives Americans did on a daily basis. I almost laughed out loud at the thought of Kevin in a Native American outfit. About 30 minutes later the guides woke up the surprised group. We were thanking the guides crazily for letting us sleep. They said it was because we had a rough day yesterday but I knew they were implying Kevin's work ethic and my anger towards certain team members. It was a new day though, and I for one was feeling a bit more hopeful.
I talked to Kevin at dinner the day before. We actually had a good conversation and he promised to work harder during hikes (even though other team members disagreed it would happen). I eat a hearty breakfast of apples and rice and we prepared our packs to set back out. The guides told us the night before that the hike would be a lot easier because we were going downhill this time. I wasn't sure if this was true or if they were just trying to motivate certain people in the group(I wonder who that could be...). We finished our stuff and to my surprise I actually saw that Kevin packed his stuff up and was ready to go.
Naturally, as you guessed, something would ruin all the hope I had for the journey. What happened, to be honest, I don't really know. All I do know is that Kevin apparently went back on his promise to work harder and refused to move a muscle down the hill to the main road. Part of me wanted to give-in and give all of my frustration, anger, towards him and to mention taking some of my lost cheese-sticks back but I also knew patience was the only answer to this. If no-one's motivation was enough for him to move we would have to wait it out until something happened. We sat on a log away from him trying not to talk about this mess he created but really, there was nothing else to talk about. I'm not sure if it contributed to why we waited so long but eventually the whole group (excluding the guides and Kevin) started bickering and trying to make Kevin move using insults and hard-truths so Kevin would feel bad enough to stand up and hike. I'm pretty sure, what it did, was not helpful whatsoever. He actually started to cry hopelessly.
That's when we stopped. Instead of patience and teamwork we used the built-up frustrated and angry emotions that we were holding in ourselves. It wasn't just the frustration of having Kevin in our group but our struggles and we all realised this. How did we? We were living, surviving, and struggling together for quite a long time before this. We knew each-other maybe even better than ourselves. At that moment we simultaneously came to realise our insults towards were a reflection of what we thought of the negative aspects in ourselves. Even more amazingly we knew that all of us were thinking the same thing. Almost as if rehearsed it, we all stood up and moved away from Kevin and sat down on the benches of logs talked about our true struggles. It wasn't a perfect situation. Some felt insecure and laughed causing fights because they were too afraid to talk themselves. But everyone did talk. It took over a 18 hours of hard-toned, emotional conversation but by the end we somehow came out better and more close. I even need to thank Kevin for this. If it wasn't for him I would be struggling way more in my life currently than I am now. He helped me (Even though it was un-intentional) to realise my struggles and anxieties currently in my life. After that we waited but with a new feeling entering our group: Hope.
I went over and apologised to Kevin and well as many of the group did as well. I then heard a guide say something to Kevin as the group surrounded him almost ritualistically. "Kevin... You can do this the easy way, or you can do this the hard way. It's your choice and yours alone" Barry said. I won't say it was easy for anyone but eventually after enough persuasion we got him ready to hike. I wasn't optimistic but we were at least moving out of the camp. We did stop for 5 hours almost as soon as we reached the hill. It also started to rain. We found shelter in a grove-like trench but it was filling up with water very fast so we frantically made roofs out of our blue tarps we used for building shelter if there wasn't one at the base-camp. We built it surprisingly fast and actually had fun by playing childishly around the grove with sticks as swords afterwards.
The thing was that whenever we stopped we just took the time to relax and enjoy ourselves. We believed that eventually we will move again and keep going. It became a routine that didn't seem like a punishment and we bonded somehow even further. After we pasted the halfway mark even some of our toughest most enduring group members started to fall back in exhaustion. I kept at it until my legs felt like putty. I didn't dare sit down and take a break though. If I did I knew there was no way I was getting up by myself or even maybe with some help involved. We did make it in the end. I could tell you all the times we stopped to wait for Kevin but the experience wasn't a punishment anymore. It was a break and a test to my will and patience. When I finished that hike back to the van I felt changed physically but most of all emotionally and mentally. I felt powerful in a way that I hadn't ever before and knew I had the patience and perseverance to continue anything no matter the situation. As I looked at the setting Sun I knew in my heart that with all my faults and struggles I could handle what would come next and endure it until the very end...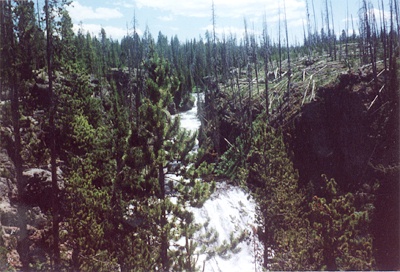 © Josh W., Peoria, AZ