The Girl of the Deep Sea of Corfu
November 9, 2017
"Press the right button to inflate your BCD and rise to the surface. Press the left button to deflate the BCD and sink down..." JJ's dad said for what seemed to be the thousandth time.

Bored, he glanced off to the shore of Corfu then down to the cobalt water surrounding the boat.

"Your depth gauge tells you how far down you are. Your pressure gauge tells you how much air you have in your tank. Let's go!" his dad concluded.

Splash!

JJ fell backwards into the cool water entering another dimension. He felt weightless and free as he began his descent.

A school of fish raced by. He watched in awe as the fishes' bluish silver scales reflected the sunlight. They elegantly twisted, turned, and twirled. They swerved, swished, and spiraled around, immersing JJ in their magic. The fish then dispersed into the coral reef below guiding his attention to the brightly-colored corals that grew everywhere. They were vibrant shades of blue, green, and yellow. Iridescent fish swam in, out, and around the corals. Their vividly colored arm-like branches reached out into the crystal clear sea giving homes to the fish.

Below lay more corals and among them lay what looked like a human body. Shocked, JJ stared at the algae-covered human shape wondering what to do. Intrigued, he slowly deflated his BCD and kicked towards the odd shape.

He felt an exhilarating mix of curiosity and fear along with a strong will to keep going. His ears popped and his breath quickened as he neared the human shape. His excitement mixed with light-headedness as he continued to descend. When he reached the human shape and hesitantly brushed away some of the algae covering it. A face slowly emerged through the floating silt cloud. A Greek goddess? Under her perfectly straight nose were defined, pursed lips, a staple of Greek architecture. He continued to brush off more algae revealing her robes draped across her and the folds of her tunic. Slender, slightly curved fingers peeked from beneath the folds. He couldn't stop watching in wonder, feeling the awe of the moment.

He peered further down at another ruin and began to deflate the BCD. Diving farther and farther down, his heart started banging against his chest and he began wheezing. He stopped descending and checked his depth gauge for the first time. It read 39 meters.

"Never reach 40." he heard his dad's voice in his head. Frightened, he tried to swim up but his BCD wouldn't inflate. Fear clouded his mind as he struggled to move upwards. Only now he felt the immense pressure crushing him. His ears were ringing, popping, and hurting all at once. He slammed his thumb on the BCD control panel, unable to see which button he pressed, and continued to sink down.

He checked his depth gauge, 39.5. Slowly the surroundings swam in and out of focus as his vision began blurring. He gasped for air and checked his oxygen tank. Only 5 bars left! He panicked and began hyperventilating. Weakened by the pressure and the lack of oxygen, he looked up for help but couldn't see his dad or the instructor.

What if I don't make it?
He then remembered his father's advice, "Press the button on the right to rise up."

He looked towards the two buttons on the BCD and with the last strength he could muster slammed the right button. Slowly but steadily he felt himself rise up. 39, 38, 37… He breathed a heavy sigh and looked up. Rising through the water his vision cleared and he watched the surface of the water in awe as it looked exactly like the clear blue sky at the end of a tunnel.
"He's here! I see him!" he heard his dad as he reached the surface. He saw his dad rushing to the side of the boat, pulling him up.

"Are you ok?" his dad asked. His breath was labored and his eyes filled with an expression JJ had never seen before.

"I am." he replied.

"Were you scared?" his father asked softly, JJ nodded yes.

"Did you worry about me?" asked JJ, looking intently at his father's unusually darkened eyes. His father didn't reply but hugged him tight. In his father's arms he saw the remainder of the dark cloud of worry clear from his father's eyes. He realized the danger he put himself through but somehow it didn't matter. Instead he felt an unusual joy mixed with pride. As if he had just won a race or passed a test with flying colors. Or better yet, as if he had conquered the oceans. He felt like part of another dimension. He felt like a diver.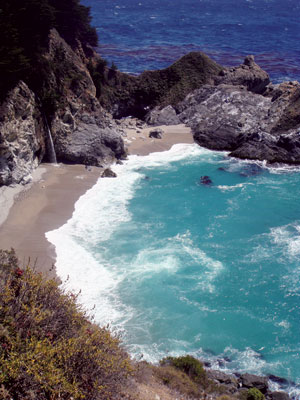 © Piper C.