This I Believe
October 28, 2017
I still can't remember if I said goodbye to him.
That fateful day, I remember it so well; the step-in-the-sun-and-you'll-melt morning of August eighteenth. It started out as innocent a day as any, with a rude wake-up-and-get-up blaring from my alarm that screamed at me to get up. I complied with its monotonous tone, and slumped out of bed to turn off the clock. Our puppy, Gansett, was more than happy to give kisses and provide me with enough dog saliva to fill the lake he loved to swim in. Giving him a pat, I pushed him aside, needing to get ready to go to the stables for another day. Quickly, I got dressed and shuffled out of my door and down the stairs, going to scavenge some breakfast from the pantry.
Mom greeted me with a smile as I stepped into the kitchen. I didn't really pay attention, as I was much more focused on finding myself some cereal for breakfast. Throwing the pantry door open, I found a box of Cheerios that I pulled out, then grabbed a bowl from the cabinet and began to fix my breakfast.
Mom asked me if I was excited, just as she had for the past three days. I responded the same way I had, that I was over the moon to be able to be around horses all day. I grabbed a spoon from the drawer, sat down, and shoveled my breakfast down. I finished up, and then got ready fast with the finishing touch being sliding on my new riding boots, which still had the rubbery new-shoe smell, but was beginning to mix with the distinct scent of horse. I bounced out of the door with Mom following, and after telling Gansett to stay inside (which he most certainly did not want to do), she gave up and let him come along. As we walked to the car, Mom popped the trunk open for him to jump in, which he did with a huge lopsided grin on his furry face. I jumped in and slammed my door shut, pulling my seatbelt across my body and buckling myself in. We pulled out of the driveway, and fifteen minutes later, we were at the barn. I jumped out of the car and ran inside, not even bothering to look back.
Dad picked me up at the end of the day, and I knew almost immediately that something was wrong.  He didn't stay and chat with the counselors like he had for the first few days, just told me to go get in the car. I was getting scared. He sat me down, and with a great gentleness told me that Gansett had died. I laughed in his face when he said that, because Gansett had been perfectly fine that morning. He just kept staring at me, with an I-can't-believe-it happened-either look in his eyes. I realized that he wasn't joking. I burst into tears, and cried for the rest of the day. I was later able to say goodbye to Gansett's body, but not the three-year-old puppy that I loved with all my heart. I wish I could remember if I said goodbye to him that morning, but I can't, and not knowing that will always haunt me.
My personal belief is this: Never pass up a chance to tell someone something you want them to hear, for there may never be a second chance to say it. I learnt that firsthand, and it's never something you want to have to go through.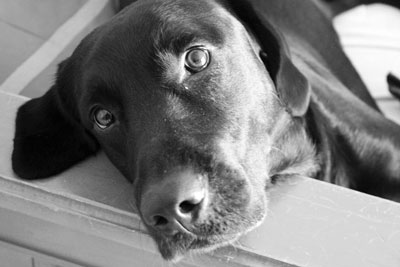 © Lindsay L., Snohomish, WA