Literary Nonfiction
September 26, 2017
It was a regular Saturday morning, I woke up to the sounds of lawn mowers from around my neighborhood and the indistinct sounds of cartoons from my little sister's room. I got up and shuffled my way to the living room, whenever I saw an unsettling site of suitcases sitting at our front door and my dad holding my mom in his arms. Their heads rode as if they heard my thoughts of fear and confusion. "Sweetheart", my mom said as she walked towards me, trying to comfort me like she did when I was little and I dropped my ice cream cone at the zoo. "I'm leaving for a couple of days to see grandma. She has gotten worse and she needs me to come see her," she softly spoke. I blankly stared at her as she continued to ramble on. I knew things were bad, because I knew my grandma didn't "need" my mom to come see her; my mom needed to see her to be able to say a proper goodbye.
Unfortunately, there are almost 200,000 cases of ovarian cancer per year, and my grandma became one of those cases two years ago. Ovarian cancer ranks fifth in cancer deaths among women, and I prayed my grandma wouldn't add to that ranking. Having ovarian cancer was a huge toll on my grandma, because with cancer comes chemotherapy, and chemotherapy is the devil. We had several panics and scares, but my grandma was an oak tree- strong and mighty.

My grandma lived in New York, and although I lived in Texas, we were like two peas in a pod. As I said goodbye to my mother, who was leaving for the airport, I began to have flashbacks of the best memories I had with my grandma. I tried to continue on with my day as any other, but when I received a phone call from my mother just two hours later, I knew. As my mother spoke to me through the phone, the heart wrenching idea I had been neglecting to try and comprehend finally became true, my grandma had passed away.

After this impacting moment of my life, I went into a downward spiral. I began to hang out with that "bad group" of kids your mom always warns you about and tells you to stay away from. I became a different person who was completely miserable in her life. One night, I had a change in heart; I was riding in a vehicle with one of my friends when suddenly we got into a wreck, and we all ended up in the hospital for the night. After this life changing experience, I realized I needed to change my lifestyle and become the joyful, God loving girl my grandma knew me as. I began going back to church and started going to therapy, and I eventually found myself again with the help of the memory of my grandma and time.

Although, I know some people have not lost their grandma or haven't had the experiences I have, I remember the pain I went through and I'm certain I learned a valuable life lesson from her death that any person can relate to and reflect off of. Losing my grandma is easily known as the worst thing to ever happen to me, but it made me realize that no matter how much the amount of pain you go through, you have to always remember who you are; always stand back up after falling.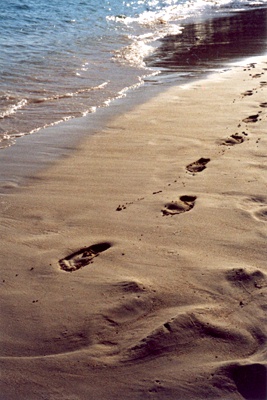 © Ashley B., Potomac, MD