Should've Thought Twice
September 25, 2017
"I hope I pass" i said. My favorite mistake happened last school year when I didn't care about school or my grades. I had started school a few days late because I wasn't enrolled yet. But it all happened at school, everything was going good. My grades stayed up and I would stay out of trouble. I would always make sure my grade were good and would always turn in my work on time so it wouldn't be counted as late. I would also sometimes do extra work so I can get more point. Even my mentor would always ask "how your grades doing?" "they're good right now" and would always tell me to keep them up.
I really don't remember when was the day I had lost interest in school and my grades. I would always do my work at the last minute or just not even do it at all. The main classes I didn't care about were math and p.e . In math I would always be sleeping or would get in trouble and sometimes get sent out of class. In p.e i wouldn't even dress or participate in the activities. I wouldn't even do do the projects that would be required for each unit.

One day I had went on Infinite Campus to check my grade and I notice that they were slowly dropping and also my GPA. I really didn't do nothing about it in till we was going to have finals. That's when I really started to say "I'm really not going to pass". I would always think that I'm not going to pass my finals. Especially on my biology final, that's the one I was stressing about because it had to be a poster and it sealed with drawing, and I'm not good at it at all. I asked "I don't understand how to do this" " you just have to search the information" the teacher said. But in class I had started doing my work but it was kinda hard because their was some stuff I didn't understand. I wouldn't even want to ask for help because I would feel like I'm dumb.
Finals finally came and I kinda struggled but I tried my best. My grades weren't the best nor the worst I was just happy I didn't fail no classes though my GPA was a 2.9 I think.

All what I learned from my mistake was that I really don't regret what happened because I learned from it. I decided to stay focused now in school because sophomore year all the way to senior year you can't play no more games. I'm going to try my best on keeping them grades up. And asking for help when needed because I might not be the only one that needs help in the same thing.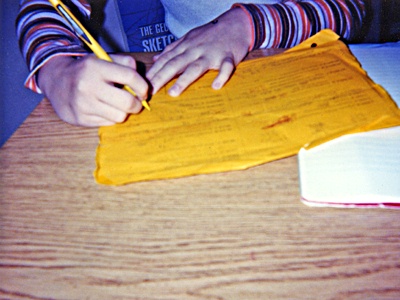 © April R., Highland Village, TX