A Party of Flavors
MAG
August 8, 2017
Bibimbap. What's that? Is it a song, a brand, a person? Actually, it's a type of Korean dish eaten almost weekly in South Korea.

Imagine this. A black, scorching stone pot with vines of steam soaring up from the bottom. It is filled with rice, and the bottom layer slowly hardens, gradually becoming toasty brown. The rice is topped with all colors of the rainbow, starting with green, brown, and orange. These colors come from handfuls of vegetables such as spinach, mushrooms, and carrots. But that is not all. Next comes the meat. Tender strips of pork marinated in a special sauce called bulgogi creates the perfect taste.

To top it all off, a thick, spicy, red chili paste is poured in a perfect spiral around the bowl. It slowly soaks into the vegetables and meat, adding a hint of sweetness and spice. Then plop, comes the egg, smack dab in the middle of the pot, like a cherry on an ice cream sundae. A sprinkle of sesame seeds is the final touch. Now it is time to experience a roller coaster of flavors.

The spoon dives to the hard rice bottom, and instantly there is the loud hiss of hot ingredients mixing together. A sudden burst of steam erupts from the dish, fogging your glasses. The red chili paste, the vegetables, and the meat dance together to create a party. The egg slides down the strings of vegetables and into the rice, mixing with the party until it's nowhere to be found. Vegetable strands tucked inside the meat on top of rice smeared red – that is the first spoonful.

A fireworks show of sweet, spicy, and savory flavors explodes in your mouth. You eat your way to the bottom of the bowl, where the hardened brown rice serves as a light cracker to finish off the meal. The bowl is scraped clean, with only a few hardened grains stuck to the bottom.

And that is bibimbap.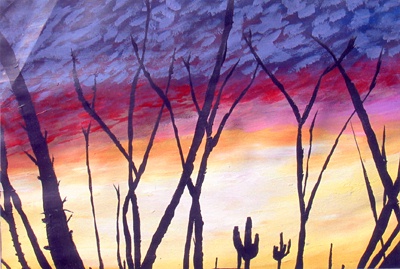 © Kassia C., Phoenix, AZ