India Trip
June 15, 2017
I was born in America. My family has a nice house. I have two brothers, one older and one younger. The younger one gets on my nerves, but I can't stand it when he goes to a slumber party with his friends. Even though he never admits it, he misses me quite a bit too. I also have a dog. She is a beautiful pomeranian about the height of two feet. I got her for my fifth birthday. While us three kids were growing up, my parents were allowed the luxury to stay home and raise us. As the only daughter of two immigrants who worked hard to achieve the so-called "American Dream," I always walked on the street with my back straightened and my chin raised to the point that I could never see my shoes. I was proud of my heritage. My father and mother were born in Bihar, a province in India. The first cable channels we bought for television was Dish network, which featured Hindi television dramas known as "serials." The only language we ever spoke in the house was Hindi. Moreover, we were part of a tight-knit Indian social circle. My parents carried their culture with them on that first plane flight to Newark about twenty years ago after their marriage, and promised to keep their traditions alive.

My family took a trip to India every summer. We only ever went to New Delhi. That is where my grandparents lived. They had a great bungalow on the outskirts of the dusty, noisy, traffic-jammed city. New Delhi was identical to America in mostly every aspect, other than the clothes. Women wore saris and kurtis rather than jeans and shirts. Two years ago, while we were in New Delhi, my father came inside the dining room and told us to pack up. We were going to visit Bihar.

It was a beautiful area. As soon as we left the airport, I could see greenery on both sides of the single, rocky paved path. I witnessed enormous cows grazing. The black and white figures stopped and watched us wide-eyed as we drove by. The lush green fields rolled on outwards beyond vision. My father cranked the window down. The wind blew our hairs into tangled nests. We laughed and sung along the empty winding road. My family and I felt truly peaceful on that drive. It was too unfortunate that I would have to witness whatever I did after we got out of that car.

The amount of confusion in my mind was incredible. My parents had always talked about India as this marvelous paradise that was home to the creation of the number zero and the intricate architectural design of the Taj Mahal. When I heard the word "India," I immediately thought of the Kohinoor diamond and the rich spices my mother crushed into a delicious masala. I was never expecting to be exposed to such blatant discrimination. I had never been talked down to as if I was a young babe. When we arrived at my relatives' house, there was one question my great uncle asked me after my father urged him on with praises of my good grades. He asked me what I wanted to be when I was older. It was a common question, but the tone he used to frame the question was hesitant and demeaning. I actually saw him lean over while asking me of the simple topic of a career. When I saw these subconscious behavioral mechanisms, I clasped my hands together, arched my back, and told him that I wanted to be a lawyer. He laughed, leaned back in his chair, and told me I had high aspirations. That was reality. I asked my mother about this newfound reality of sexism, and she said, "That's just the culture here."

The trip strained my energy and naive optimism in the world. I don't know which social factor hit me the hardest. Was it that my mother did not allow me to wear shorts? Was it that my great uncle did not recognize me as a person with a story to tell? Was it that my brothers were seated at the table while I was expected to help serve the food? Or was it that I saw the horrors of the treatment in between the social relationship of my great uncle and his daughter-in-law? I still can't organize the blur of emotions into chronological order. I remember feeling the horrendous emotions of sorrow, anger, pity, and somehow, guilt. I remember feeling guilty that I was a girl. I remember feeling sorrow as I ate in the kitchen with a daughter-in-law. I remember feeling jealous when my brothers were praised on how well they spoke in Hindi. However, I could still feel comfort in the fact that I was leaving the next morning. I furrowed my eyebrows, pouted my lower lip, and peered at the daughter-in-law. I felt true pity for her. I wanted to save her somehow. I wanted to grab her clothed shoulders and scream in her face that she could run away with us. I wanted to get her a green card and drag her to America so badly. I saw her cup her cheek with her palm and rest half her body mass on one elbow. I noticed her peering out of a small, circular window, looking at the young girls playing outside.

That's all that happened. I could've placed my hand on her shoulder and told her that it would be alright. I could've stormed into the main lounge and confront my great uncle. I could've given a speech against the social discrimination of women in the household and the misdemeanors contrived in patriarchy. I was already writing out a sample speech in my head. But I didn't. There was no heroic ending to that day. Throughout my childhood, I felt strong and empowered. I wanted to be a lawyer. I wanted to be a political figure. How could I be a political figure or an advocate for humans rights if I couldn't fix the horrid, sexist atmosphere and culture surrounding one small town in India? At that moment, I could not muster up the courage to help the situation in any way. I just felt pity, looked at the time, and went to bed. A few days later, I was back in America. I still had my family and the Dish channel. I still spoke Hindi fluently and was part of the Indian social circle. I have always felt regret about that day. Even though I know it is difficult to change the social structure and gender roles residing in that small, blue house in just one day, it aches knowing I could have offered comfort to a young, beautiful girl sitting by a windowsill in a broken-down kitchen.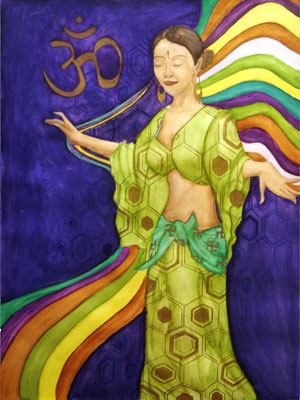 © Elisabeth C., Great Falls, MT