Silence
April 9, 2017
Silence. Not the uniform, absolute silence, but rather a silence in which familiar sounds are taken and not replaced with other sounds, leaving you with a low buzz of a generator or a now rare mechanical clopping of an old car. You never really realize how loud your life is until you experience it. There is a sort of 'golden aura" to the entire situation, almost like reliving a fading memory, all blurry and muffled and usually beautiful. The silence, which acts more like quiet than silence but more like silence than quiet, is the only silence I've ever experienced, and still not only until recently noticed.

The first time I found myself in its presence was a few days ago when I was taking a leisurely walk to my art studio, for a reason of temporary importance. I realized that I was talking to myself, and that was all the noise there was, excluding the far away chatter of other students and faint rustling of leaves. I started to experience it more and more, one of the more recent last Thursday. I had just finished a quiz in math when I decided to close my eyes. A few seconds afterward I realized if I tried hard enough I could hear another student's faint breathing from a few rows away, or where exactly my teacher was from the sound of his footsteps. I found it relaxing. I experience it now as I sit on my trampoline, observing, writing, and memorizing the patterns of the bird chirps of the early evening.

My neighbor's dog barks but does not tarnish the silence, but rather blends into it, becoming another piece of its vast and endless and intangible puzzle, adding to its perfection of slight imperfection. Two small gray birds fly over me in a swirling fluttering dance, either fighting, falling in love, or both. The dried and fallen leaves of my cherimoya tree sweep across its trunk, making nature's very own xylophone, or maybe its own sidewalk chalk drawings. The palm fronds rattle and clap at my appearance, the first in a while not through a window. As the sun sets, the tree's shadows turn into mountains. It's funny, the sunset emits the same golden aura as the one I wrote about earlier, but this time it's actually visible. As the sun sets further west, the shadow mountains turn into more of a shadow wall, a faulty replica of my distressed wooden fence in the very back of my lot. All of these things, frustrations to the perfectionists, inspiration to the motivated, and confliction for those in the space in between, are all my perfect imperfections to my beautiful non-silent silence.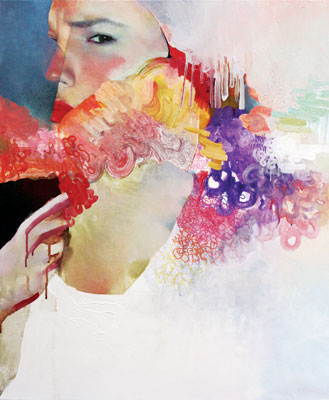 © Winston C., Jamaica Plain, MA