Finally a Camper
MAG
February 21, 2017
It was finally July and the first summer I was old enough to attend The Great Escape church camp. I had heard amazing stories from people who had gone. They told me about night games, ziplines, and mud pits. I had been waiting 12 years to go to TGE: Midwest. And now, as a rising seventh grader, it was finally my turn.
I looked at my checklist and hoped I had packed everything. If not, I would have to figure out a way to live without it for the next six days. I grabbed my giant black suitcase and took it downstairs. My dad helped me put my bags into the trunk of his 1989 Alfa Romeo. The car is a small, red convertible. We had to use a bungee cord to keep the trunk down. Like I said, my suitcase was huge.
I realized I still had my phone with me and quickly ran it back into the house. If I was caught with a phone at camp, I would be sent home. They had very strict rules on tech use at camp.
We pulled into the church parking lot where the group leaders were loading the buses. My dad gave me one last hug good-bye, I grabbed my things, and went to meet my friends. It had been a month and a half since we had seen each other, so we were pretty excited. We got our name tags and schedules, then our group leaders had us stand in a big circle. We said a prayer, grabbed our snacks for the bus, and filed on.
The bus ride lasted about two hours. Some girls slept, some played games, and some had a screaming match. The two hours felt more like two minutes. When we got there, the buses parked, and some of the camp counselors ran by in strange hats, huge sunglasses, and goofy outfits. We stuck our hands out the window as the counselors ran by, giving them high fives. They came onto our bus with a large camera. They recorded us screaming and jumping around. We were trying to show how excited we were for camp.
We unloaded, found our assigned rooms, unpacked, and headed to the lake for our 5:30 beach time. Kids were playing volleyball, swimming, and dancing to music blasting from giant speakers.
My friends and I all looked at each other and, as if we'd rehearsed it, ran straight into the water. We swam and danced and had fun. Camp was going well so far.
The next morning, we woke up at 7 a.m. and got ready for the day. After a delicious breakfast of bacon, eggs, pancakes, muffins, and cappuccinos, we went to our first morning session. Sessions are a time when we sing songs and listen to speakers talk about their experiences with God.
After morning session, we had quiet time. We started off by sitting all together in a large area overlooking the water. Then we were sent off on our own to read an assigned Bible verse and reflect on it.
After quiet time, we went to one of the different recreation activities: lake rec, field rec, or mud rec. On the first day, I had mud rec. We played a game called Steal the Bacon, where you take a giant flotation tube and put it in the center of the huge mud pit. The teams run toward the tube and try to grab it and pull it over to their side. Whichever team succeeds wins the game. There were about 24 of us trying to grab the tube. We were pushing each other into the mud and falling on top of each other. It was super fun and messy.
After lunch was free time. We could go to the art room and be creative, go swimming, or just hang out in our dorm rooms. Sometimes there were special activities like volleyball tournaments, chess matches, soccer games, tie-dyeing, and banana boating. Riding the banana boat was super fun. You sit with four to six people on a giant yellow tube shaped like a banana and hold onto handles while the boat pulls you around the lake and tries to throw you off. I was always in the back because I was the tallest. So, because of this, I was always getting thrown off. I swallowed quite a bit of lake water!
The evening sessions were like the morning session but longer and focused more on the lecture rather than singing.
Next was family time, which was time we spent with the people from our church. We would go back to our building and talk about the fun things we did that day. One night, all the girls wore their pajamas and brought their pillows. There were streamers and balloons, soda and cupcakes. We even had a pillow fight with about 45 girls!
On the third day of camp the evening session was a bit different. We all gathered near the lake. That night we could make a big choice. We could choose to give our life to God if we wanted to. I did.
Everyone had their own experience that night, but one thing is for sure: everyone cried. If we chose to, we could go up to the front and get a commitment bracelet. We would join our church family in a big group hug. I went up there not expecting to cry, but as soon as I was welcomed into the big group hug, my eyes swelled with tears.
It was dark outside, and they gave each of us a white candle. As soon as all the candles were lit, bugs started flying around us, attracted to the candlelight. They were in our hair and up our sleeves. I even swallowed a few by accident! We were all jumping around, crying and laughing at the same time, trying not to get attacked by bugs. It was an amazing and emotional night.
Friday was our last full day at camp. We started off by going to the beach for devotionals. We watched the sunrise, sang hymns, and listened to an inspirational story from a speaker.
Of course we couldn't leave camp without a shaving cream war. Counselors stood around an orange fence with bottles of shaving cream. The campers would run up to them and they would put huge globs of shaving cream in your hands. Then, you found your friends, or anyone you wanted to cream, and you smeared them with shaving cream.
Although the war was for everyone, there were four boys in our grade that decided it was a good idea to start a mini war with four of us girls. But we came up with a system. One of the girls would chase one of the boys. The rest of the girls would just wait. As soon as the boy came running past, we'd slap him in the face with shaving cream. It was a very effective method.
Eventually people started to leave to go get changed. In the mini war, it was just me and one other boy. We threw shaving cream at each other, then used pool noodles filled with shaving cream to whack each other. When he ran out of the arena, I thought I had won. But he came back with a giant squirt gun filled with lake water. If he was going to use his resources, so was I. I came up behind him with a big bucket of shaving cream water and dumped it on his head.
He turned around, and I put the bucket down.
"This isn't over," he said.
I responded, "We will continue this next year."
His final word on the matter was, "Agreed."
That night after dinner, we had an amazing camp dance that lasted almost three hours. The last song was "One More Time" by Daft Punk. The song builds up to one part when the band sings "One last time!" super loud. At this point, the campers crowded into the middle of the room. We held our hands up and shouted "One last time!" at the top of our lungs.
Once the song ended, we accepted the reality that we were going home the next day. We packed up our things.
In the morning Victor, our youth pastor, called us to the lake. He recited some Bible verses as he stood knee-deep in the water. He called the ninth-graders forward. They stepped into the water. He then called the eighth-graders into the water. They were told to put their hand on a ninth-grader's shoulder. Finally, he called the seventh-graders forward. We were told to put our hand on an eighth-grader's shoulder.
Victor said, "Eighth- and ninth-graders, look behind you. The kids behind look up to you. So, set a good example. And seventh-graders, next year, you will have sixth-graders looking up to you. Set a good example for them. I know that some of you are going back to hard situations. Some of you are going home to parents getting divorced. Some of you have had a death in the family recently. Some of you are struggling with friends or something else in your life. Camp is a way to get away from our troubles. But this break from reality can't last forever. Just remember, God loves you no matter what."
Victor's words stuck with me.
I believe The Great Escape changed all of us. We had to return to reality, but if we are ever feeling sad and missing camp, we can go online and see videos and pictures of our wonderful time. We will never forget The Great Escape; it will always have a special place in our hearts.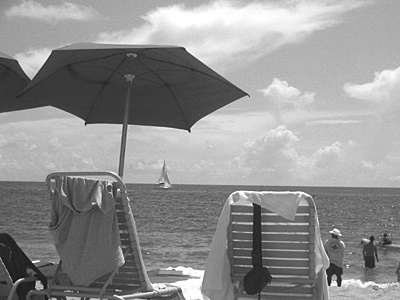 © Emily O., Boynton Beach, FL