Christmas Memory, 1957
MAG
January 22, 2017
It was December 24, 1957. Pat Boone's "April Love" was the number-one song on the radio. The Asian Flu pandemic was nearing an end. Two months earlier, The USSR had launched Sputnik 2. The price of a gallon of gas was 24 cents. A covert war was under way in Indonesia. Elvis Presley had recently purchased a home in Memphis, Tennessee. The United States was in the throes of its second Red Scare.

It had been a decade of changes, both technological and social. In 1950, the United States committed soldiers to the Korean War. 1951 saw the rise of transcontinental television. In 1952, 3-D movies were invented. In 1953, Edmund Hillary and Tenzing Norgay were the first to summit Mount Everest. 1954 was a very big year in which the Supreme Court ruled against segregation in public schools, and Dr. Jonas Salk created a vaccine for polio. The first Geneva Summit took place in 1955. In 1956, the Interstate Highway System was approved. And in the midst of all of this excitement, on a tiny dairy farm in Askov, Minnesota, Joyce Petrea Nielsen had just finished cleaning the hardwood floors with Johnson's Paste Wax.

At nine years old, Joyce was the family's homemaker. Her mother, Maria, was profoundly arthritic. Wheelchair-bound and in constant pain, Maria was unable to perform the tasks
required to make a home function, so the cooking, cleaning, grocery shopping, and every other household chore fell to her only daughter.

Though Joyce preferred to be outside among the animals doing farmwork with her brothers, she never complained. Her mother needed her, so she did what had to be done. Joyce was only in fourth grade, but she was hardly a child.

On December 24, 1957, Joyce was in too good a mood for her day to be spoiled by a bit of cleaning. It was her dad's birthday, and Christmas Eve to boot. She floated through her housework, lost in dreamy anticipation.

Tradition dictated their schedule. Every year Joyce, her brothers, and their father, Viggo, attended the 4 o'clock service at their small Lutheran church. They entered the chapel in daylight, and afterward, they stepped outside into a world that had magically transformed. The nighttime sky was filled with stars, the snow crunched beneath their shoes, and the air pulsed with joyous expectation.

Mouths watering, they would return home to their Christmas Eve dinner of meatloaf. (As an adult, Joyce realized that her family ate meatloaf because they couldn't afford a turkey.) Gathering around the Christmas tree after dinner, they danced and sang the traditional Danish carol "Nu Har Vi Jul Igen."

Some winters, when snow was abundant, Viggo could earn a bit of extra spending money shoveling for neighbors. Those years, there were Christmas gifts under the tree for his three children.

After the presents were opened (if there were presents to be opened), the neighbors would begin to arrive. The festivities included stories, games, laughter, and Mogen David wine. Joyce's mother, Maria, was a strict teetotaler, but she made this one exception, allowing alcohol in her home on Christmas Eve.

The party lasted for hours, and Joyce was allowed to stay up past midnight. Finally, happy and exhausted, Joyce would crawl into bed and sleep late into Christmas morning. This is how Christmas Eve had always been, and she didn't expect it to be any different this year.

Joyce was humming cheerfully and putting away the Johnson's Paste Wax when her mother broke her reverie.

"Joyce, you're going with your dad to visit the Eberlies this afternoon. They have a daughter your age. I want you to pick one of your dolls to bring to her."

Joyce stopped humming. "But Mom …"

The Eberlies were a family of refugees. They had been forced to flee a far-away country (that nine-year-old Joyce couldn't name) for reasons that she didn't understand.

"… I don't speak the same language as her!"

"I know you don't want to, but it's important that you do this. It will mean a lot to her."

Joyce sighed.

"Okay."

Joyce went to her bedroom to pick out a doll.

A short time later, she was on her way to the Eberlies' home with her dad and her Tiny Tears doll. They pulled up to the Eberlie home, and with a fair amount of trepidation, Joyce followed Viggo inside.

They were welcomed warmly, and Joyce was sent off to play with the daughter. She was nervous at first, not quite sure how to navigate the language barrier, but her worries were soon forgotten. Joyce greeted the girl and presented her with the Tiny Tears doll. The girl was delighted. Before long, they were playing together like they'd known each other forever. Joyce was surprised by how easily they were able to communicate, and by how much fun she was having.

When it was finally time to leave, Joyce felt like she had made a new friend. On their way home, Joyce turned to her dad and said, "I didn't know you could play dolls with someone when you don't speak the same language."

That day, Joyce learned that some things transcend language. Things like compassion and friendship. It was a lesson she carried with her throughout her life.

Some years down the road, when Joyce was grown, she would devote her life to making use of this lesson. She would spend countless hours organizing food drives, raising money for charitable causes, and most importantly, making herself available to people in need of love. She would carry hundreds of people of every age and background through their darkest times, always ready to offer a sympathetic ear, words of wisdom, a hug. Whatever was needed, Joyce would gladly give.

Throughout her life, Joyce has occasionally reflected on her childhood and the lessons it taught. She learned to be generous with what she had, little as it may be. She learned to do the right thing even when it wasn't the easy thing. She learned that you don't always need words to convey feelings, and that sometimes the best thing you can do for someone is be there. She thinks about the refugee girl and how they played together on Christmas Eve. And she silently thanks her mother for making her do it.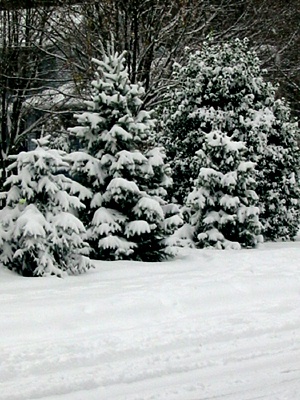 © Kristen S., Sewell, NJ