Ink & Cards
December 24, 2016
Used cards with limp bent corners cover my bedroom floor.
A mix of white, lined, crumpled paper and sticky notes prevents one from seeing what is underneath all the clutter, which is my desk, whose sole purpose is to hold the clutter. And nothing more.
Books. There are stacks on top of stacks, drawers filled with books. Most I have read, but some I've never got around to.
Words fill my walls. Some written in white, grainy chalk. Some hung by wooden clothes pins from twine upon the wall. Some that need to be taken around.
My mom tells me to clean. I tell her that this is a writer's room. Words everywhere, inescapable, and all consuming.
She tells me to stop being so poetic and fix my room. To pick up the cards at least.
So I do, but I pick them up just to throw them at the wall, or the curtain or wherever I so please. And I usually hit my target. I get close, but close isn't enough. So I continue until the card magically moves from my hand to the wall, or the curtain or wherever I so please.
I wear boots with laces laded up to the brim. I have two black pairs, one with red laces, and the other, the traditional black laces. The brown pair was my first venture into the world of laced boots.
I have two leather jackets that I received for Christmas last year. One is a sleek looking, classic black leather jacket with metal zippers. The other is a casual brown hoodie. In addition to the leather, it has a brown, hood made out of cotton and non-leather sections at the end of the sleeves. My grandma jokes that I am becoming a biker without a bike.
I have too many flannels, but if I'm being honest, one can never have too many.
I have the stereotypical writers bag with an over the shoulder strap and a flap that buttons down to keep all of the contents secure.
On my phone there is a running tab of all of the ridiculous, enlightening or poetic things that people have said. I write ideas that come to me for books or poems or random articles and often find myself reminiscing in these quotes and random words. Whether they are uplifting or sad, I am happy that I recorded all of these memories.
I have all these objects and do all of these things to make myself look of the part of the writer, but that's the thing about being a writer, looking the part means nothing if you don't play the part, sit down and write.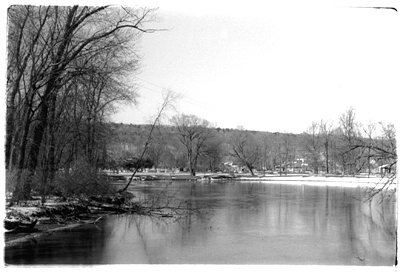 © Simon I., Lansing, NY