I Am Me
November 11, 2016
I am me. Sometimes, I don't want to be, but I still am. I'm stuck this way. My life has been a rollercoaster. When I was 11 my parents got divorced. It wasn't a clean divorce either. I would wake up in the middle of the night and hear my mom and dad fighting and screaming downstairs. I would lie awake for hours listening to it thinking " Is this ever going to end?"

Eventually my dad left the house to live with my aunt. I got to see him two days a week but it just wasn't the same. We would only get a few hours to see him and they usually consisted of him playing on his phone and me and my sister playing with my cousin, Mickey.

Eventually, the divorce papers got signed fully and my mom and dad were officially divorced. Our family was now broken. My sister would throw tantrums and refuse to go to school. Me? I just sat there and went on like it was a normal, despite all chaos. I hated telling my mom things because she would just tell me to go away and she went back to watching her show, filling out papers, or playing on her phone. So, I didn't tell her things, then she complained about how we didn't talk enough.

About one month later my dad got a new girlfriend named Michelle. She was really nice and she changed my dad for the better She made him drink less, and made him start smoking a vapor instead of real cigarettes. We started to see my dad two times a week plus every other weekend because he could now prove he could take care of us and feed us. A few months later Michelle and my dad broke up because he started doing drugs and drinking again… I was heartbroken.

It hurt me so badly and I could only talk about it to my friends because my mom didn't care and my sister would cry every time I brought him up. I kept all my feelings bottled up for fear of everyone thinking I was too emotional or a cry baby. I started to fall apart. All this pain and regret and sadness was eating away at me from the inside so close to the surface that I thought I would burst out crying if someone did something that I didn't like or made me mad. I was like a little fragile thin sheet of glass that could break any second. That is how I've lived my life, in fear of breaking, in fear of falling apart.

I am Me.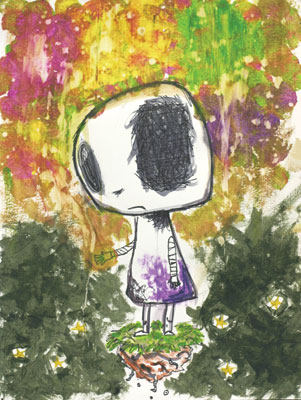 © Ashley W., Port Charlotte, FL