Black Is Just a Color
October 17, 2016
Being the only black kid in the family, it was ingrained in me that, only cause I'm black, people have every right to say anything about me and my parents can't but agree to them. I was tired of the questions, tired of the same answers and tired of being black. "Is that your son? I thought …" "You're getting darker day by day, kid" "Both of your parents have fair skin. How did you end up like this?" In reply, my parents smiled. So did I. But each and every word used to rip my heart into pieces. I had a feeling that I was a disgrace to my family. That I was the reason they feel ashamed in front of people. No sooner I turned twelve, I stopped attending family functions or social events. I retreated into myself. This led to the addition of the "unsocial" tag to my never ending list of "qualities". Days passed and the questions kept increasing. So did the frustration. Then one day, I decided to give up. I decided to give up when my own siblings were hesitant introducing me as their brother. I went to the roof with a heart full of grief and head full of questions which apparently had one answer – suicide. Killing myself was the only way to be freed from the mental torture which was getting unbearable as days passed. I looked down to the busy streets with eyes full of tears. But no. I couldn't do it. One thing that popped in my head was – Why am I killing myself? Only cause I failed to blend in? If God created me to stand out, who am I to change that? That was the first and hopefully the last time I even thought of committing suicide.

Now, I look back and think, what if I jumped? I guess society's deadliest disease would have devoured yet another victim. The disease which is commonly known as racism. Racism – It should've been just a word. But unfortunately it isn't. We claim to live in the 21st century. But the truth is, some things are still the same as they were a hundred years ago. Growing up in an "upper class" family should have been enough to keep me away from this. But it didn't. As a kid, my life should have been limited to fun and education, But did the society let that happen? I faced this extreme reality before I could spell racism, let alone being aware of it. I learnt that people can question your abilities for no reason only because of your darker complexion. All these left a scar in the mind of a twelve year old kid. A scar which engulfed his entire childhood.
Today, I don't hold any grudges against anyone who ill-treated me. Rather, I pray to the Almighty for your well-being. But I just have one question. Can you give me back my childhood?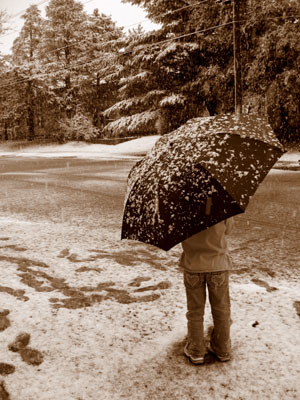 © Hui Y., Potsdam, NY