Freewrite #6
August 19, 2016
I am too happy to write. What a dilemma. A true quandary.

I wish I was crying and distraught, drowning in a perilous murky swamp of emotions.

But today…today I am positive. I am lazy, but not regretful. I am seeing the bright side of everything!

I am so lucky to be alive, to have a loving family and to have the leisure to be sitting in a rocking chair writing.

This rocking chair is amazing! It's old and it's made of wood and it creaks and quakes in the best possible ways.

Everything is wonderful. Summer is ending, yes, but the stress has not hit me yet and I am in blissful denial. My future, despite its abundance of college essays and application nonsense, in addition to four AP classes, is promising.
I have passion and I'm going places. I know I am. I am eliminating all my expectations and freeing up my future possibilities.

Yes, junior year felt like an earth-shattering nightmare of stress, exhaustion, and lost hopes, but it was also a year of new realizations about how I handle desperate situations.

Mostly, I procrastinate.

The bigger and more stressful a project is, the less immediate attention I place on it, as if my efforts to extinguish my despair will somehow put an end to all work that needs to get done. It makes such little sense that I wasn't even sure of how to phrase that.

But now that I am aware of my terribly insufficient work habits, I can improve!

At least I am aware. Being aware feels awful at first but it is always rewarding in the long run.

Anyways, everything is just great with me. Unfortunately.
How can I write without anger and sadness to drive my words out?

I write the most passionately while crying—or while clenching my jaw and grinding my teeth in absolute rage.

Right now I have all the time in the world to write.

There's no school. No pressing deadlines.

BUT I CAN'T WRITE RIGHT.

What's wrong with me?

Come on Carrie, stop rocking in that wonderful chair and think of the world! We live in a terrible world of war, sexism, racism, homophobia, and plain rotten people! Come on Carrie! You hate your school! You secretly want to get out of your city because you have yet to find someone with a soul here.

Also, you've always lived in the same place. It's awful and boring and gross and rotten and…so beautiful! I am so lucky to live here, in California, literally five blocks from the beach—so few that I was able to mentally count them!

The weather hardly changes here. When it does, it is always a pleasant change. A pleasant breeze. A pleasant cold. A pleasant warm.

And when it rains!

I miss rain. Rain is one of my favorite things. I love running through it and jumping through puddles—all while watching the plants get greener and pinker and browner and purpler and yellower. The glorious colors and essences seep into my comparatively lifeless soul.

I can't wait for rain to fall, even if it only drizzles.

Maybe people wouldn't be so standoffish if it started raining again.

Where is the crushing depression and anxiety that makes my words more unique to my heart, mind and emotions?

A voice in the back of my head tells me that I will feel it soon enough and when I do, I will want to rip these words up and clench them in my bony fists. I will fling them to the floor and tug on my unruly hair. I will furrow my thick brows and twist my face into something terrifying. I will begin to cry. I will feel bare inside and the tears will taste stale. Nothing will be happy. And I will not be writing.
Ugh. I hate you, brain. Now my rocking chair feels dead and nothing is wonderful.

And I still can't write right.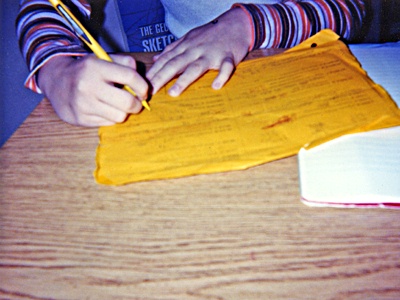 © April R., Highland Village, TX