THH: Makeup
June 24, 2016
Finally, the last day of school. After the final bell, my friends and I went to downtown, cruising through our favorite niches in the city, and at turns pocketing various assortments of iced coffee, ice cream, and pan-fried Asian food. We babbled about plans for the summer, skipping across stores like stones.
Out of popular request, we landed in the air-conditioned tundra of Ulta, a local makeup store. I glazed over rows of brilliant nail colors, eye palettes, and metallic hairsprays, colors that shined brighter than crayons. I wasn't planning on buying anything, with two lipsticks left at home to burn. My gaze shifted. I started to wander through the same aisle over and over again.
My friend noticed, and commented jokingly. Since I didn't wear makeup, I had to be bored out of my mind. She was right, but I remembered her words. We regrouped, then left for another makeup store, even colder than the last.
I remembered when in seventh grade, I decided I was done with my cracked, colorless lips. My mom agreed. I came to school the next day, shyly sporting a pout of shimmering gloss, and then spent the rest of the day trying to convince my horrified classmates that it was, of course, all my mom's idea. When my younger sister began to dabble in liquid eyeliner, I drifted away from makeup even more.
It just didn't appeal to me. I looked silly anyways. But more and more, especially after entering high school, I was asked about my naked face.
I tried to find people's comments and questions amusing. After a while, I couldn't help but wonder. Did I stick out that much?
I remembered wearing makeup to school a couple of times, wings on my eyelids and everything. It was almost absurd; I was wearing a costume, and would joke about it to anyone who would listen. But, after dressing up repeatedly for school projects, putting on makeup started to feel familiar. Even if it was a guise, it was beginning to feel normal. Looking in the mirror, I studied myself. Sharper. Enhanced. In the crowd, I slipped between other painted faces.
Then, a wave of confusion. Had I just gotten my makeup revelation years later than everyone else?
I admire people who put art into everything they do. For some people, it's their makeup, transforming their face into something they create. And recently, I've realized I can admire it without doing it myself, even if it puts me outside the mainstream.
Now, it's the middle of a sweltering summer. I've decided to stick to my two trusty old lipsticks. If I feel the urge to experiment, I will. But that doesn't seem likely. After all, well rested and hydrated, I look the way I want to every day anyways. Ready to face the world.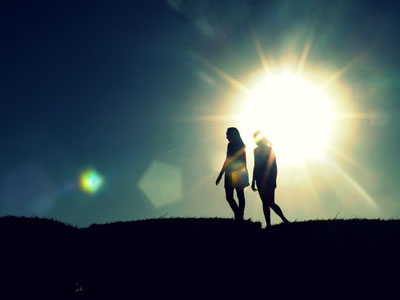 © Alexzandria R., Salem, OR