One Unique Guy
May 26, 2016
They don't understand me. I am the one who understands them. One unique guy with great humor and a old sense of fashion. One who doesn't belong in this time era but is here. One unique person planted by the maker. From miles away, people can see him, but he just disappears and doesn't leave anything but a bootprint.
His mind is a mystery. He sends and receives positive news and comments. They try to solve his mystery. He grows more elusive whenever they get close. This is how he works.

He lets no one forget his reason for being here, he is here to watch and learn, he watches as people pass and stare at him in his large hat. Look, look, look they say when they pass. They mock.

He doesn't care what they say or what they do, he watches them as they mimic him, he just smiles and tips his big cowboy hat. When they finish he walks on ignoring the next round of taunting. He just keeps smiling. He just keeps going tipping his hat as he goes. He walks down the street, the only cowboy in town.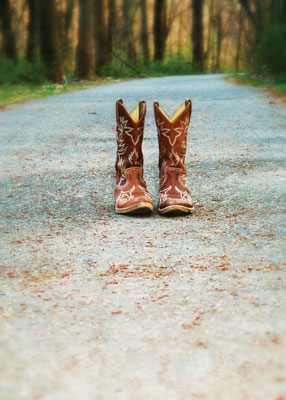 © Bianca A., Damascus, MD