Control
May 7, 2016
I wake up with chains. When layers of sunlight hit my bed, I think of all my ambitions and the steps I must take to reach them. Like many of you, I groan each morning, scrambling to end the beeping of my phone and feel the weight of stress returning as I put my feet to the ground. Immediately, responsibilities of the day sprout in my head like uncontrollable weeds. Okay, test in science and a quiz in math. I need to get at least 95%. Oh lord, my research paper. I have rehearsals until 6:00 today? Oh, and a lesson after that. As a stare into the mirror, these invasive "needs" and "have tos" block up my brain. The only thing I feel looking at myself is an insatiable desperation for control in my life. Controlling myself to work tirelessly at school and shoving myself into putting full efforts at all extracurricular, I find comfort at last, knowing I'm at least working towards success. But if I truly had control, why do bitter streams rain from my eyes when the walls of my own room protect me?
Lying in bed, I picture myself as a carefree girl. Not a drop of that detrimental poison called worrying runs through my veins. I smile. Not for teachers, parents, admission officers, but for my own reflection. I picture myself laughing with my old friends on a week day night and staying out way too late. Instead of re-editing another essay, I finally watch the shows my peers fawn over. I can look into the eyes of my parents and tell them I had a wonderful day, not breaking them down by my sad gaze and exhausted attitude. No more demons jolting me awake in the night. No more screams into my sheets. No more pretending like everything is easy. Slowly drifting off to a land without worries, I know that in my pursuit of gaining stability in life has actually taken away all the control I once had.
We shouldn't trade memories of pizza with friends at 1:00 a.m. for looking like a corpse after studying all night. Nor should we trade breathing in rosy spring wind for the angry yells of coaches as we train for another hour. We all restrict ourselves from having those fun times because we want to put full energy into achieving our goals. But thinking closely, would that acceptance letter, scholarship award, or gold medal be worth it if we lost our ability to live a good life? You can go to Harvard and watch as stress tears you into pieces. You can earn that award, but as others send their congratulations, you already have to finish another research project. You can stare at that medal on the wall as you shiver in pain from the endless practices you abuse your body with.
When we reach the place that once promised us happiness, we would find ourselves incapable of feeling that emotion. This "control" is wasting us away like a gas leak, not letting its victim know of danger until the situation becomes too late. Do you want your life to consist of anger, self criticism, and sadness each day? As fearful as it may seem, abolishing that need for "control" will actually let you feel in charge of your life. As humans, we deserve happiness and our lives should revolve around achieving that one goal. You may think your ambitions may be the only road to happiness, but before you are a successful doctor or athlete, you can still have happiness along the way. Abandon that load of limitations and expectations, and instead, see the beauty of your life. We deserve the beauty our world provides. When I step outside, the marshmallow clouds and city lights can give me more inspiration for writing than hours of shutting myself before a desk. Taking time to laugh with friends can make me hopeful and willing to return to school and work hard once more. Breathing in the fresh fragrance of pine trees, running no longer seems like a punishment for my body as I start enjoying training.
Giving up that demand for control is not letting go of your dreams in life, it's preserving the light that allows you to wake up each morning and wanting to live.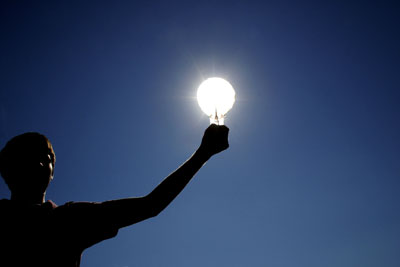 © Ty B., Oak Bluffs, MA