The Dentist's Grimy Teeth
February 3, 2016
I believe that dentists are allowed to have imperfect teeth. Teeth that jut out, teeth speckled with yellow, teeth that are exactly the kind dentists attempt to fix with whitening, braces, and dental tools. Once the brush slides and the wires push, everything is perfect. Clean. Straight. White and glistening.

When I was younger, I used to think that the reason dentists were able to fix the teeth of so many people was because of their own. Like Odysseus in the Trojan Horse, they disguised themselves, wearing masks--masks that covered half their faces, never letting you see their mouth while they peered over at yours. It was a surreal thought. And as the eight-year-old me sat in the chair at the dentist's office, I couldn't help but finger the back of my back tooth, knowing that a moment later, there would be someone poking and probing at it, finding all my dental shortcomings when I didn't even know what the person looked like. Most likely, though, the dentist would be clean. Straight. White and glistening.

But despite my worries, I liked being in the dentist's chair. I liked all the cleaning and the brushing, the questions of whether I wanted mint or chocolate-flavored toothpaste. That was when I concluded, dentists had the best lives in the world. They got to have perfect, straight, teeth while they worked on making the rest of us have perfect, straight teeth. 
Eight-year old me had an uncanny obsession with Odysseus' adventures, and that obsession had made me realize a lot about heroes. They were strong, brave, and good-looking, like dentists. Dentists were strong when they used their metal instruments. They were brave when they extracted teeth. And though I didn't know for sure because of the masks, I assumed they were good-looking. Their teeth must have been spectacular--they were dentists, after all. They accomplished superhuman feats of strength; they were heroes in real life. I'd once heard the definition of an epic hero: someone who represents the cultural values of a nation. The young version of myself wasn't exactly sure what that meant, but I knew nation meant America and cultural values--well, perfect teeth were one. No other country would spend more than ninety billion dollars on dental care. Logic told me that dentists represented the country of America itself. It was all I could think about as my teeth finished being cleaned.

And then my dentist--my pale, soft-spoken, masked dentist who had been leaning over into my mouth all this time--she took off her mask, peeling the elastic strap out of the corner of her ear, and said, "All done, honey."

Her teeth glistened with the unmistakable glint of braces. Silver braces with purple rubber bands wrapped around them, just like the ones I had, except mine were sky blue. I was shocked, then angry. Dentists were hypocrites, I thought. Absolute hypocrites. Who were they to tell us how they could improve our teeth when they couldn't even manage their own? I was wrong; they didn't represent America. They didn't even represent themselves. I felt foolish, thinking that I'd found a real-life hero.

But then she smiled and gestured to the basket of stickers next to the door. And it was then that I realized, as Dianne Feinstein once said, "toughness doesn't have to come in a pinstripe suit." It comes in many different forms. What was surprising to me was the fact that not all of those forms were clean, straight, white, or glistening.

Toughness came in Odysseus when he sailed across the sea even with Poseidon's waves coming after him, and when he battled the Cyclops and won. Up until that moment, Odysseus had always been a hero, but he'd never really demonstrated his "toughness" until he learned what he could do with it. His feats were superhuman; his success determined the fate of an entire nation. Maybe my dentist never had to go through those kinds of trials or trauma, but I do know one thing: she was tough when she wore braces while serving as a dentist. She was especially tough when she showed those braces. Perhaps she wasn't how I imagined a hero to be,  but she was a hero in her own right, the toughest kind there ever was. And maybe that's what we all need to be learning: what it means to be tough.

Open wide.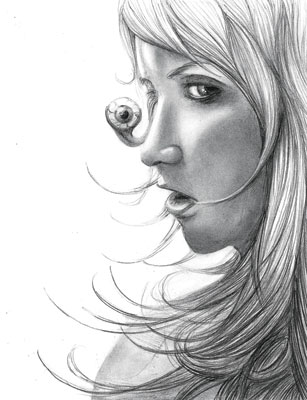 © Jessica P., Bethel Park, PA