My Dad, My Hero
December 15, 2015
My Hero is my Dad. He has always been an influence in my life and I love him for it. He has his faults, but then again, everybody does. He got me onto the path of healthy living and has never given up on me in any way.
When I was two, he rescued me from Russia. He came into a place of horror; a place where I had no reason to really hope for the future. Through his sacrifice, he showed me what God did for me. He gave me hope for the future and gave me a reason to believe. He introduced me to my best friend JESUS.

I will be honest with you, I really hate it when my dad corrects me. He makes me feel stupid and some of his questions makes me really mad the way he asks me something when I do something wrong. It just drives me nuts. But hey, look at the reasons behind it. He is:

Is older than me and therefore knows more,
He's wiser and smarter than I am.

The best way for my dad to teach me is through his example in his daily walk. When he sees something that goes against what he believes or sees something that he thinks is a bad idea, he goes after it and tries to either defend his faith or change the really bad idea. He doesn't let anyone belittle him for his faith or down play him for having a sincere love for God. He has been writing open letters to newspapers for thirty years to get his voice out into the community whenever there is a problem that he sees fit to change. I have read many of them and they are great. He is aggressive in defending his ideas and faith, but is passionate in wanting to see others change. He doesn't attack anyone or belittle them. He only informs the public with his opinion on a topic, like homosexuality, and backs up his claim with historical evidence from credible sources.

My dad is a likable guy and is very popular with the Junior Highers at our church youth group. He loves kids and knows how to relate to them through humor. His popularity has forever been an object of desire for me. He has made more friends at church youth group(s) than I have ever had or will have. Since he was a youth pastor, he knows how to keep your attention. He tells stories and says things in a way that makes you remember them.
Dad is a handyman, a former tools salesman, a former builder, and a DIY kind of a guy. Most times when there is a job to do, he doesn't call a contractor or a third party, he does it himself. He's just like Richard from Tommy Boy. He never takes no for an answer. For example, we had an old outhouse that was falling apart. I thought that it's ugly and that it should be torn down. He decided to re-do it and make it better. He's probably the reason I can't sit still. He is always doing something and looking for a job to finish. I, being his son and a person who is influenced easily by him, take this as the way to live life. Every time he gets up before me, I get up (much to Vlad's dismay) and look for work to do, even if it's at 7:30 or 8:00 in the morning.

Though he would be the first to deny it, my dad knows his place in society. He knows that God gave him a unique skill with his hands and a unique way of thinking outside the box. He's great with kids and cooking and math and reading and loving God and just about everything else. He's by no means perfect and he never will be until he sees Jesus, but I don't count that against him. I want to be like him. I want to be great at being popular and great at loving the Lord like he is. I want to be aggressive and thick skinned. When I teach, or do whatever God Leads me to do, I want to learn to never take no for an answer. And like my dad, I want to never accept defeat. As a father and a History teacher, I want to inspire the kids that I meet to do all the things that my dad inspired me to do.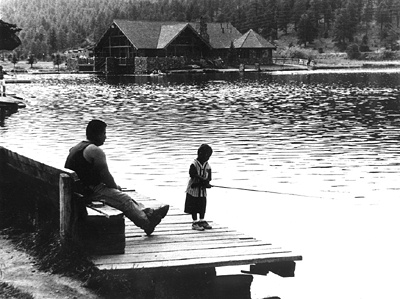 © Ryan P., Greenwood Village, CO