The Grass
October 22, 2015
The sixth grade was the most memorable, magical year of my entire life. It's cheesy, but it couldn't be more true.

Vikki, Angela and I were best friends. Our favorite word was spazz. You're a spazz. So spazzy. Spazziful. And that's who we were. Spazzes. Our hearts were opened up so wide that we could see almost everyone in them. And when we couldn't hold our zealous love in anymore, we'd simply burst and release it all in a wave of happy, hyper energy. And every single morning, we'd run to each other from across the hall and hug. Not a quick, hello best friend hug. No. We would hug as if we hadn't seen each other in years and wouldn't for years to come.

The funny thing is, whenever we hug now
this is true.

Vikki. She had been moving all her life, but we thought that we were the exception. We thought that our bond was so strong that fate would bring us back together. She'd come back.

But we slowly learned that fate isn't a fair judge. That fate is a cruel trickster who feels a sick sick pleasure from destroying unsuspecting hearts and lives and watching broken individuals pick themselves back up and attempt to piece themselves back together.

Such unique spirits, crushed by such a cliche. How suitably ironic.

We were a triangle, Vikki, Angela and I. When connected there was a perfect aura. An indescribable bliss. Back then it didn't seem like anything special. It was just who we were.

What I miss most was lying in the grass. Afterschool. Nearly every day. We'd talk. Laugh. Sometimes we'd lie low on our stomachs, press our chins to the ground, and try to see the world through the eyes of the ladybugs we loved to catch. Other times we tried to do somersaults. Afterwards we'd roll onto our backs, the tops of our three heads touching, and look up at the blotches of yellow orange sun from under our eyelids. And while embraced by the sun's warm rays, we'd dream. We didn't know we'd lose our chance. To lie in the grass. To laugh. To dream.
Not very long ago, while walking alone at night, I took a break and sat in the grass. I felt a sudden need to lie down, for just a moment. The love, now contained, built up within me. I burst, not with laughter or joy, but with hot, stinging tears.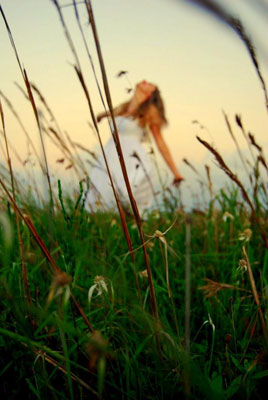 © Richard F., League City, TX