Cycle of Celebration
MAG
September 30, 2015
As I stand in my synagogue during the High Holidays, I remember the last time I stood here and think about all the future times I will stand here again. Each year, I resolve to grow and improve, yet too often I find myself in the same place. My life is a cycle, punctuated by moments that repeat year after year.

Fall is the season of new beginnings, of simultaneously clutching the last moments of summer and waiting for winter to come. My brothers and I pile into the car, fighting over the shotgun seat, excited to purchase this years' school supplies. We fill our backpacks with shiny notebooks and freshly sharpened pencils, walk to school with a spring in our step. It is too early for us to be discouraged by school, too early for us to long for summer again. There is a crispness in the air as leaves begin to fall and sweaters are pulled out of closets. We are excited, filled with hopes for the year to come.

Winter arrives, and we warm ourselves from the inside to combat the cold outside. We wear coats and boots now, and walk to school bent forward against the wind. Sometimes there are snow days, the world blanketed in white as fat
flakes drift down. I bake cookies, using a recipe that calls for two types of flour, two types of sugar, and two types of chocolate chips. In the evening,my father lights a fire, cheating by using a fake log because he knows that it is enough to make us feel warm inside. Winter is also Hanukkah, the glow of the menorah illuminating the dark night.
Spring comes, and it is a new beginning. Buds sprout on the trees; I used to gather them as a child. The sky is filled with soft clouds, a celestial cotton candy. Everything is wet and green and new. We tread lighter as we shed our coats and boots. When Passover comes, we visit my grandmother and cousins in California, remembering the Jews' exodus from Egypt, remembering what it means to be a family. And spring is AP season, when I crack open prep books and discover that I really did learn something that year. As the daffodils bloom, I unify my knowledge, taking command of everything I have learned.

Summer is a chance to find ourselves. Summer is camp, exchanging the physical comforts in life for something greater. It is tents and long hikes and late nights and growth and joy and pain. It is singing in the rain with my bunkmates and realizing the connection we share. We continue to sing, searching for the extraordinary moments before our mundane lives resume. Later, at home, I gather a pile of books from around my house and resolve to read them all. I make homemade ice cream with my brothers, tossing the ingredients in an ice-filled ball. We laugh as we eat it on the swings.

And then come the High Holidays, and fall begins again. My life is a cycle, punctuated by meaningful moments that repeat year after year. Yet the meaning does not come from repetition alone. It comes from the growth in between: when I stand in the synagogue and realize that I've changed that year, when I am mature enough to allow my brother the shotgun seat. Some families mark change with height lines along walls, but my family does so in moments, in rituals repeating forever.

This spring, I will graduate high school. One cycle will close, another will begin. Some rituals will end, and new ones will take their place. Yet I hope I will never lose my repetitive cycle of traditions, the great unifying force that gives me meaning from within.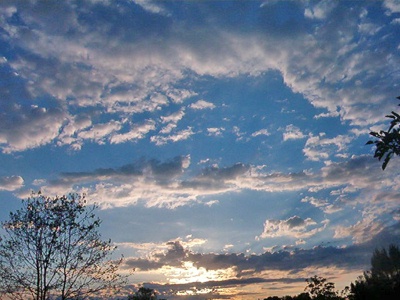 © Kaitlin M., Vincent, OH