Treasure
April 24, 2015
Nashotah Park
Inside the quaint, quiet town of Nashotah lies fields full of treasures. And it's not the type of treasure that brings you wealth, but instead, it's the kind that fills your heart.
The forest awakens with the echoing sounds of birds chirping through the trees. A new morning arises, filled with more adventure and wonder than the day before. Deep in the woods lies a treasure that most do not find--it's a wholeness that fills the heart and mind. I stand, surrounded in a thick forest that stretches towards the blue sky.
The sound of serenity fills my ears. Silence. The hushed whispers of the woods and the innocence of those who inhabit it. This is my home, but I am a visitor.
It's untouched beauty rolls throughout the hills and dives deep beneath the still blue waters. The wind whistles and the fields of grain slowly dance to its music. Golden waves of grain praise the sunlight as they move with grace across the vast land.
Nashotah Park is a treasure that remains close to the hearts of those who take the time to bring in its beauty. It allows a sense of calmness and peace to those who live a busy life. Nashotah Park is my home--my safe place. Its the heart of our community in which our differences bring us together to form a friendship that can last a life time. Although I view Nashotah Park as my home, I am just a visitor.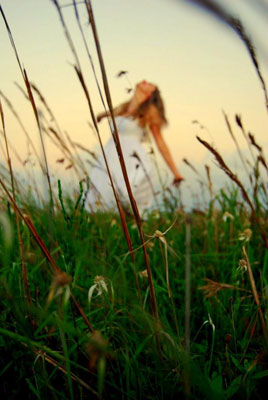 © Richard F., League City, TX