Emotions
March 14, 2015
Our heavenly father understands our disappointment, suffering, pain, fear and doubt. He is always there to encourage our heart and help us understand that he is sufficient for all of our needs. But what if one looses him? Your single action can violate your millions of words. Then no one is your friend except loneliness. Well, I am not ashamed but I know what it is to be a part of this heartache.

It was me who made him the integral part of my life. He does not ask me for it. I was the real fool, first to get so attached and then to hurt and get hurt back by my own deeds. How difficult it is to determine what you really feel! It is all endless parade of unanswerable questions.

Now, all I can do is to remember all those sweet moments again and again but can't even think of feeling them again. I can only re-read those sweet text messages but now I can't receive them again. Look to those taken snaps for hours over and over and try to recall the silly words people used to pull my leg with. But he was the one to say, "Do as you want, you are a gifted child. Don't ever loose the real you." Truly an angel guardian, isn't he? Love is the energy I feel when I see him. But as soon as I realize this my heart cried in grief, "Oh! You lost the one". Now only memories you have with you.

Once my thoughts were my best buddies through which I used to express myself but now they are the worst enemies ever. Whatever I earned is now lost, in the blink of an eye. I can see some bloody fool replacing me but can't do or say anything. I can close my eyes to the things I don't want to see but how can I close my heart to the things I don't want to feel? Fighting deep inside my thoughts, searching my reaches for what I really am.

Next day as I woke up, taking millions of issues in my little psyche. The very first thing I did is to check my cell phone, if I have received a morning text from that heavenly father. But there was a big no, no new thought, nothing. So I decided to meet him and to make things better again. But nothing was working, everything seems to cease. Still I began to explain but now it was all over. That innocence, beauty and pureness was lost somewhere. The best feeling in the world is to know that you actually mean something to the person who means everything to you and the worst is to know that you have lost him, especially by your own mishap. He tries to comfort me by saying, "Don't worry, still you can be the way you want", "But you won't be the real old you", I added. All he said was, "start afresh and prove yourself (words). I managed to reward him with a smile.

How can one prove his words? But an inner voice says, "Don't be afraid, get going and be genuine. Everything happens for a reason." And now it's all about my own words. My strive for myself. Who knows where it takes?

Well, I am sharing this circumstance because I think it's not only me who is going through it. But every tenth youngster is facing this. We are the generation that grew up too fast with whatsapp and social networking sites. But with this, we should understand the intensity and seriousness of our own words and relations. We don't understand how blessed we truly are! We get that everything so easily that we don't even want to know the struggle behind each. Before doing anything we should think thousands of time and then to step ahead. Though we can't go back and change the past but we can look to the future and take care of not hurting or attempting the same mishap twice. Because when it happens our heart is broken into fragments.

All I want to say is, first understand the depth of your own words, then look for your responsibilities with those soulful words and then express. But in this, don't forget to remind that special person how or what you feel for him, because opportunities are lost in the blink of an eye. But regret can last for lifetime and never hurt or ignore a person who loves you, cares for you, helps you and misses you. Because one day you might wake up from your slumber and realize that you lost the moon while counting the stars.

And if you are a victim of this wonderful EMOTION, have enough courage to trust one more time and always one more time.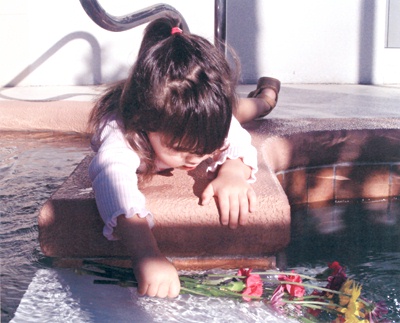 © Courtney C., Palm Coast, FL