Dear Whoever
March 7, 2015
Dear (insert name),

Hey, hi, how are you doing? Do you feel like talking? ...That's alright, then can you just listen? I just need someone to listen.

It's been a weird time for me lately. Things that I don't even mean end up jumping out of my mouth, like speaking is some kind of free-fall thrill ride. But did you know? The words, I'm sorry, are introverts and always get left behind by all the other words. When you try to say them, your throat suddenly becomes a drought and they just run away. I found out in class today that the brains of teens prevent them from properly thinking before they speak and that's why we can do some pretty stupid things sometimes. I think I'm going to blame it on that and walk away from the situation. I guess I'm not the type for thrill either.

Do you find yourself wondering whether you're using school to get away from home or using home to get away from school? I sometimes do. When things get rough, we just want to get away from it. Is that just human nature or something to do with being a teen again? We never seem to be able to face things when they come. I've been thinking and it's probably because of fear. We fantasize every possible result, pick out the worst one, and then assume that it will happen. Wouldn't it be so much easier to let everything unfurl around you? But, I guess both of us are watching the screaming people on the upside-down rollercoaster as we silently sip juice on the bench.

Hey, aren't you tired of sitting in the corner? …No. It's safe here, it's calm here, and it's quiet. But it's also dark, cold, and unbearably lonely. I know. I know. I…know. Hey, I've been thinking about how much I love my friends. I love the people around me and what they do for me. I can laugh with them and they'll cry with me. So, I've been getting a little restless, watching them from the sidelines. I want to properly be happy with them. I think it's about time I try to ride the rollercoaster too.

Thanks for listening. It's nice that I can tell you what's been bothering me. I feel so much better now. Thank you.

Sincerely,
Me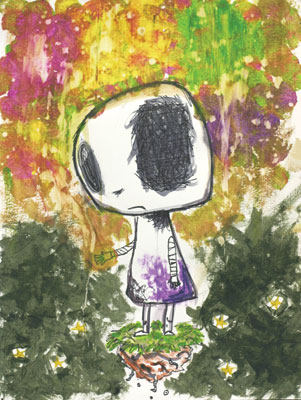 © Ashley W., Port Charlotte, FL