The Day She Didn't See
March 5, 2015
Preface: A fifteen - year - old girl sits within the chapel in her high school. It is Eucharistic Adoration, and though she is not Catholic, she enjoys learning more about the religion. She had never been baptized into any religion, but she was a faithful Christian. She sat among her fellow sophomores, waiting for something to happen. She closes her eyes, hearing a voice not of the priest, and then it all begins...
There was a small cavern, behind a waterfall, like at Hanging Lake, Colorado. The thing is, the cavern wasn't dripping wet, like you would expect. There were two young people inside the cavern, but one was older, twice the other's age. One was the girl, and she had dirty - blond hair that was softly curled, and a light sort of tan, wearing a white, empire - style, flowing dress. The other was a young man who had darker hair and skin tone of the Middle East. And he, who was also in white, was not her boyfriend, cousin, or brother. The young man was Jesus. He was not much taller than her, but tall enough to where she had to look up to see his face. The two never minded the height or age difference. He had brought her to the cavern behind the waterfall as part of a vision; even though this was different for the girl, she was familiar with the idea of being, in a sense, visited by Jesus. He led the girl directly behind the waterfall, but neither of them were being pelted by the water. He walked to the water and showed her something beautiful, but it was not something that was a concept that people think of: as in, it wasn't an object, but beauty itself, the idea that everything was beautiful. The girl was not quite surprised, but there was a feeling of awe. The girl had an idea of what she wanted to see, but she had never known it would be something like this: she didn't realize it wouldn't be anything that could be named...
The picture fades, and the girl opens her eyes. The vision didn't take long, but it felt like it's been longer than it really had been. She looked around, realizing there wasn't much time left in Adoration. As she leaned forward, she reflected on what she had experienced. It hadn't been the first time she had been visited by Jesus, and she was certain it wouldn't be the last. She then realized that He never leaves, but you have to look for Him. She knew she was a lucky and blessed, always had been, and always would be. She smiled to herself, and took a deep breath...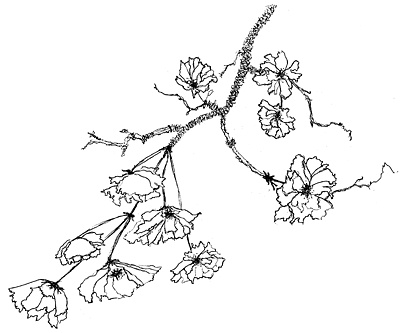 © Marybeth L., Hamilton, NY