New Kid Syndrome
MAG
I loved my school last year. I was top of my class, student body president, in the school musical, into drama and art, on the swim team, and principal chair for band. I knew all my teachers, and I had some really good friends. I was unstoppable, on top of the world, no one could touch me - until I changed schools.

Now I am a freshman (a.k.a. dead man walking). I remember my first day. I was so nervous, but knew everything would be okay ... wrong! It turned out that I was very, very wrong. By the end of the day my feelings had changed quite a bit from the summer. I thought I was going to be calm, cool, and collected by the end of that first day, but instead I felt confused, bewildered, and flustered, and like I was the only one going through this. I was diagnosed with New Kid Syndrome (NKS). I had the common symptoms of NKS: confusion in class, no connection with teachers, lack of friendly faces in the hallway, and zero people to talk to.

For those who suffer from NKS, believe they are suffering, or have in the past, there's a way out. You too can see those friendly faces in the hallways, and even those little tepee marks on report cards - if you read on.

Know you are never the only one who is new; there are other new kids around, in addition to people who were once new and are understanding and willing to help. Make sure you tell people you are new. Try to get other kids to show you shortcuts only they know. This way you can make your routes to classes much shorter and get around the school better. Also remember that although upperclassmen can be scary, you can ask a sophomore or even a senior for help. They don't bite ... most of the time.

In the lunchroom try to look for people you know from your classes and people you might like to get to know. Ask nicely if you can sit with them; most likely they'll smile and say yes. If not, it's their loss. Simply say, "That's okay, I see my other friends over there," and don't be embarrassed - who cares what they think?

If you are trying to meet new people, getting involved with clubs and sports is a great way to find others with your interests. Making new friends is important, but don't forget about your grades and your relationship with your teachers.

When starting a new school, there will also be brand-new teachers, which can be good, or bad. Be sure to be respectful and pay attention in class. If you get bad grades at first, ask the teacher for help before a test and do all your homework. Then at least the teacher knows you are trying your hardest. Find out whether your school offers tutoring. Always try to go for extra help right away when you do not understand something, and don't wait until right before the final. If you can't go to the teacher, ask a guidance counselor, another teacher, or even a student.

Just remember that everything will be fine. Being the new kid isn't as scary as it is on TV. Remember, above all, to be yourself.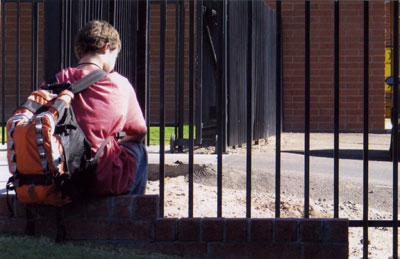 © Molly L., Phoenix, AZ