My Forever
September 12, 2014
After a long day, I decided to stay after school to catch up on some homework. As I was doing my work, I decided to take a break to check my Facebook for the h*ll of it. I seen that I had a message notification; I clicked on the notification and noticed right away it was from the boy I had crush on for over a year. My heart almost beating out of my chest I hesitantly clicked on the message. It was a simple "Hey, how are you". I quickly responded and we continued the conversation. Dillon and I had been talking for a little over a month now and we just had such a strong connection. I had been waiting patiently for him to make the first move, yet I was left disappointed each time. I had noticed from the beginning that he seemed like a utterly shy person. Towards the end of our conversation he said that he had to start getting ready for work. At that moment I decided it was now or never, I wanted to ask him out on a date. A thought surfaced in my head, it can go one of two ways, first, he could say no and my life would not change at all. Things would stay exactly the way they are, or second, he could say yes and we could take things from there. I nervously typed, "Do you think that maybe me and you could go out on a date sometime?" I hesitantly pressed send, and waited for a response. The "typing" icon stayed on my screen for what seemed like forever. Finally, I got a response and my heart was pounding at what felt like a thousand beats per minute. I got the courage to read the message and was honestly thrown back by the response. Dillon had typed, "Yea sure! When and where, it's my treat!" I sat staring at my computer for a good two minutes before I wrote a response. After we made our plans for the date, I logged off, shut the laptop I was using, and sat in the library with a huge smile plastered on my face. After about ten minutes of uncontrollable smiling, I decided it was time to walk home.
It was mid December so, there was a blanket of snow over every inch of the ground and beautiful snowflakes falling out of the sky as I walked home. It all honestly felt like a dream to me. Me, just an average girl, had a date with my year long crush. The whole way home I couldn't take the smile I had off my face. Once I got home, I immediately ran to my mom and told her. Now, my mom's the type of person who is very protective over her kids, but with Dillon she was a little more lenient. All I told her was his name and when we were going out and she was perfectly fine with it. I was so excited that I planned my outfit about a week in advance. It ended up being a bright pink shirt that tied in the front, and the cutest pair of leggings I owned. Then after a week of waiting, December 22 finally came. I was beyond nervous and I was running around the house trying to get ready, then the doorbell rang and I knew he was there to pick me up. My mom answered the door and I was still doing the finishing touches on my makeup. I could hear my mom asking Dillon a million and one questions. As I stepped out of my room, we made eye contact and I couldn't help but smile; as I smiled, I could see his face turn into a giant grin and at that moment, I knew he was something special. I couldn't get over how attractive he looked. He was in a deep blue button up shirt that brought out his shining blue eyes, and I could smell his cologne from across the room. The smell sent chills throughout my body and I couldn't help the attraction I felt towards him. As we left my mom gave me a tight hug and said she loved me. Dillon and I walked to the car and before I got the chance to open my door, he ran to the passenger side of the car and like a true gentleman, he opened my door for me. I couldn't help but blush and produce a huge smile on my face. He told me we were going to a small Mexican restaurant and I was looking forward to it. The car ride was a little awkward considering we hadn't talked in person for a little over a year. It was nerve wracking, I didn't want to disappoint him, I really wanted him to like me. Once we got to the restaurant, he again opened the door for me and we walked in and sat at a back table. I was as nervous as could be, this was my first real date, and it was with a guy I had the biggest crush on. We placed our order and as we waited for our food we tried to make small talk. It was honestly very difficult, we hadn't really spoken in person before so we had no idea what to talk about. After about five minutes we found a common topic between us, and once we found out we knew some of the same people, that really got us to start talking and we couldn't shut up! When our food came we quickly ate so we could go back to talking. We sat and talked for a good two hours, I took a quick glance at my phone and I seen it was pretty late and said I should probably get home. Dillon drove me home and we sat in front of my house for a little bit planning our next date. I then said goodbye and was about to get out of the car when Dillon says, "Wait" I turned around and he gently grabbed my face and pulled me in for a kiss goodnight. When his lips reached mine it felt like millions of fireworks were going off. I never had a first that felt so powerful, my whole body was tingling from head to toe. After he kissed me, he looked in my eyes and told me goodnight. Once I got in my house, I shut the front door and just stood there for a couple of minutes. It all felt surreal, I could not believe everything that had just happened. I ran and told my mom everything and I could not shut up about him. After talking my moms ear off, I went in my room, laid in my bed, and just stared at my ceiling. I could still feel the tingle on my lips from our kiss. I went to bed that night with one thing on my mind....Dillon's lips.
The next couple of days, Dillon was all I could think about. His bright blue eyes, his lips, just him in general, these thoughts took over my mind. The last thing I wanted to seem like was the overly interested girl; therefore I waited for him to message me first. It took about 6 days for him to message me, but when he finally did he was as eager as I was to hang out again. That weekend we both happened to be busy, so we both agreed the next time we would hang out would be on January 4, 2014. It was the beginning of a new year and I just had a gut feeling that Dillon would play an extremely large part in the year 2014. January 4th could not come fast enough, I was super eager to see Dillon again. Finally after what seemed like forever January 4th finally arrived. I had no idea where we were going to hang out; at around 4:00 PM Dillon messaged me saying he was on his way to come get me and he asked if it would be ok if we hung out at his house so that I could meet his family. I instantly got nervous, this was his family I was meeting, but I said it was perfectly fine and that it sounded fun. I knew one person from Dillons family and that was Taylor. When Taylor went to my school we were actually pretty close; she's actually the person that had introduced me to Dillon. It had been over a year since I had seen Taylor and she had no idea I was dating Dillon. When we got to his house I could feel my breath start to shorten, I followed behind him and walked upstairs to his younger sister Savannah's room. As soon as I walked in I saw Taylor and she jumped up and hugged me. It felt good to be familiar with someone. Taylor and I sat talking for about 20 minutes just catching up on everything. We talked about how things were going for ourselves and how I ended up coming in contact with DIllon again. Dillons other sister, Savannah, was a little less welcoming. Savannah was the type of person who left her guard up until she knew what a person was all about. When I had first entered the room, she had the meanest look on her face, as though she was trying to scope me out,but as the hours passed Savannah became more and more use to me. After a couple of hours Dillon's dad called up and said dinner was ready. I hesitantly walked down the stairs because I had yet to meet Dillon's dad, little did I know I would be meeting more than his father. As I got to the kitchen table I noticed two more people sitting there, it was Dillon's older brother Nick, and his girlfriend Ariel. It was a little overwhelming meeting so many people at once, but I took a deep breath and told myself to just be me. As we sat eating dinner I opened up to his family and they grew to like me fairly quick. They asked me a bunch of questions, like what I do for fun, how I did in school, and about my family. Once, I was fully comfortable, we were all laughing and having a good time and I could not have felt more comfortable. After dinner was over everyone decided to give me and Dillon some privacy. We went into the living room to watch T.V. and to just talk. About half an hour of watching T.V., I decided it was time to ask Dillon what we were exactly. I was honestly scared of what his answer would be so I decided it would be best if I just said it so I looked over at him and said, "What are we exactly?" He looked at me a little confused and said, "I thought we were dating..." It still wasn't very clear to me, I thought he meant we were just going on dates so I said, "What do you mean?" He looked at me even more confused than the first time and said, "What do YOU mean?" It was time to finally cleared up the air, "Are we friends, friends with benefits, boyfriend and girlfriend....?" He quickly responded with, "I thought we were dating..." I was immediately confused, "What?! You never asked me out!"
"Ohh...I forgot about that." I started to laugh. So he said, "Hey take it easy on me! I've never had a girlfriend so I'm new to this s***!" After finally catching my breath from laughing so much, I said "So are you gonna ask me?"
"Alicia will you be my girlfriend?"
"No." He looks at me astonished. "I'm just kidding! Of course I'll be your girlfriend." Dillon immediately smiled and gave me a kiss I can still feel on my lips to this day.
From the beginning of our relationship, Dillon and I were inseparable. He was always by my side and I was always by his. Yet, I still had a wall up that he had a hard time breaking through. Throughout my past I had been heart broken a million and one times. My heart had been shattered into pieces a countless number of times. So from the very beginning, I had my guard up. Dillon always questioned why I didn't trust him, or why I didn't open up to him fully, and I always told him that I was hurt in the past. He always responded with what every guy before him responded with, "I'm not any of those guys, I would never hurt you." I wanted to believe him, I really did, but I just couldn't. Not after everything I had previously gone through. He would tell me day after day how much he truly cared about me and how he could never hurt me, I just felt as though actions spoke louder than words.
About two and a half months went by, so it was mid March. Dillon and I were doing amazing and things couldn't have been better. He was the best boyfriend a girl could ask for, he made me feel like a princess. One day we were coming back from one of our typical dates and we decided to sit in his car in front of my house to talk for a little bit. It was a normal conversation when all of a sudden Dillon looks at me and says, "Alicia, can I tell you something?" Those words kind of took me back and I nervously said, "Sure of course." "No no it's nothing bad, I just don't want to seem like an idiot if you don't feel the same way, because I know it's still kinda early." I was extremely nervous at this point, "Dillon, just tell me. I'll let you know how I truly feel." He took a long, deep breath, "Alicia, I love you." My immediate reaction was to grab his face and kiss him as hard as I possibly could, after I kissed him I said "Dillon, I love you too." The butterflies in my stomach were uncontrollable and I just knew he was something special. I didn't know if it was the sparkle in his eye, or the fact that I had said "I love you," I had never said "I love you" to a boy before, but I had no regret saying it, because at that moment I knew I loved him; I knew I loved him with every bone in my body. I was always so scared to fall in love, fearing heartbreak as the result every time. With Dillon on the other hand, it was different. Every time our lips touched it was something I never felt before, the best feeling I've felt to this day. He made me realize everybody has someone out there who truly does love them. No matter how many times you've been hurt, there's someone out there who's gonna pick up all the pieces and put you back together. Dillon was and still is that person for me. He's the one I see by my side for the rest of my life. Now every time after we say "I love you", I follow by saying "Forever and always?", and Dillon finishes with, "To infinity and beyond."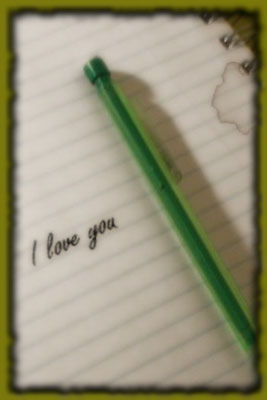 © Rebecca B., Marietta, GA