My First Creative Writing Class
February 7, 2014
I began this class with a strong love and appreciation for creative writing. Whether in my genes or brought on by will, I have always been drawn to the idea of creating life and meaning through stories. To me, this is the greatest part of writing, the creation part. Like a lump of clay, your words can be crafted into people. They can mold rivers, build castles, start a family and end the world. Throughout my time in this class, I feel as though I have built many monuments and formed many realities that I am truly proud of.

The first unit we explored was personal narrative, a genre that shook me as a writer. I don't spend an inordinate amount of time thinking of myself; I prefer to let other characters do the talking. I'm always behind them, the puppeteer, pulling at their wooden limbs and infusing my life into theirs. But it is rare I put myself on center stage. The beginning of personal narrative was difficult for me. I wrote several drafts of dead-end ideas, thinking I just don't have anything to talk about. However, after allowing subject matters and nerves to settle, I found I did have a thing or two to say. From there "Pretty Girls" was born. This piece became the foundation for my work this semester, and looking back I wish I had said more.

From there, we moved on to poetry, something I was quite unfamiliar with. In my mind, poetry and I were incompatible. My flow and rhythm seemed to tremble, and the more I wrote the more inadequate I felt. Days became weeks and I still felt lost. Desperate, I looked to the outside world and nature for inspiration, and pitiful, it began to answer me back. Words began to cling to one another in even masses, and slowly my poems became more of an art and less of a wrestle. The less I forced, crammed, and herded my words the more they expressed themselves. Some poems came easily, like "Lady Spring", and others had to be coaxed from me like weary animals. By the end of the unit, however, I felt as though poetry and I formed a sort of alliance that can be strengthened by future dealings.

Short story was a breath of relief for me. I felt I was in familiar territory, and I was comforted that I would get the opportunity to take a reader on a complete and detailed journey. I had many ideas, some wild and some earthly, but none of them seemed right. I can't explain it, but none of them moved me in a way I had wanted. It wasn't until later in the unit that I started writing "Fear No Evil", and once I began I had difficulty stopping. My hands worked at the same pace as my mind, racing to remember all the details I saw in my head. Twenty pages later, I can only hope I did Mary Claire justice in telling her story, because she is not one person, she is a network of people speaking in one voice.

And now we end with creative nonfiction, my final work to be polished this semester. I never fell in love with genre, but I am very fond of "Without a Father." I love this piece because it is very personal to me, and I believe there is so much strength in the presentation of facts. Overall I feel like the next time I come across a creative nonfiction assignment I will be more open-minded to the possibilities and excitement a creative nonfiction piece can incite.

All in all, this class has been a blessing. I feel as though my voice has matured and grown, and my change as a writer is now evident in everything that I do. I view the world in a more detailed way than ever before, sewing what I see before me into lines of poetry or concise prose. I have learned to revise, control, and accept my creative flow in this course, and that has been a gift that I will carry with me for the rest of my life. I hope that I will be able to sign up for Honors Creative Writing next year, because my journey as a writer has just begun, and there is still much to learn.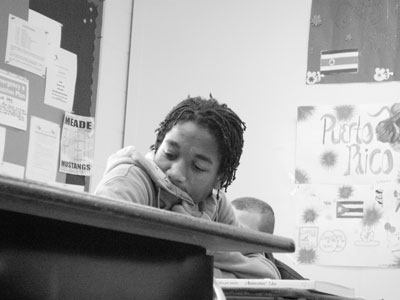 © Demetrius A., Ft. Meade, MD