Butterflies
January 3, 2014
Butterflies fly across the field.
They go to each flower and drink the sweet succulent nectar out of each flower and pollinate as well.
They look so gorgeous as they fly and land on each flower.

I run out of my little house and out to the field to catch some of these magnificent creatures
as I will let them go right after admiring their beauty.

I catch one and she flutters her wings, showing them off.
She must know how stunning and colorful she looks because it looks as if she struts and walks as if she was the best of all.

Years later I sit in school and thing of something to write.
A butterfly flies onto the room and lands onto my desk.
That's it, that's what I'm going to write about!
I go home and research more about butterflies and relate them to people.

Butterflies cannot see their wings. They can't see how beautiful they are, but everyone else can. People are the same as well.

I got a good grade on the paper and I went home to show my mother.
I heard a light tap on my window later that night and I opened my window to see a butterfly.

One of the butterfly's wing as torn and the other fluttered crazily.
I couldn't kill it, so I looked up a butterflies favorite food, clementine.
I went to my fridge and got a clementine and brought it out to the butterfly letting it feed off of it.
The butterfly fed off of the fruit for awhile.
After a few minutes the butterfly died.
I gently picked it up and buried it by a flower.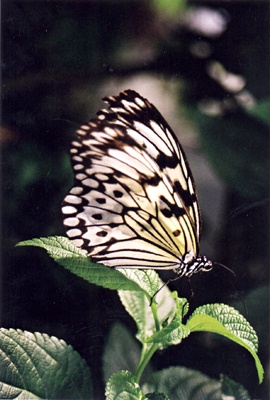 © Courtney G., Rocky Hill, CT