Creative Process
December 29, 2013
Everybody has their own method of maintaining sanity: hobbies, sports, music, etc. The one thing in my life that has never left my side, that has always caught the tears and smeared them to aching paper, is writing. Writing comes to me in various forms. Sometimes, when I am alone, really alone, my body echoing its own emptiness from the very hollows of my bones, it comes to me. In sweet, fragmented lines of seven or eight, I leak my sadness, fingers dripping the vacant words, tracking the muddled trails of every time he broke my heart. Sometimes, faces that I don't know surround me. And the words come. They seep out my eyes and run to the floor, pursuing an end to the deception that pools at my feet. There is one place though, where I am by myself but not at all alone, where every adjective that rolls off my tongue ships out to the world to be licked up and adored. This is the graveyard in my hometown, a secluded patch of eerie, sunken stone and thigh-high grass. This is where my best writing happens. It is the way the wind ceases here, the way time stops. Here, there are whispers, and I listen and they help me, they help me write. I sit, my back to the lively tree that rendered one woman lifeless. She is the reason I write. I write for the people that never got a chance to change the world.

When I write, it feels like someone is speaking through me. There are never mistakes and I never make revisions. When I was younger, this scared me. I wanted to know where the words were coming from. Now I don't mind. Now I welcome the beauty that flows through me. Perhaps I am the world's conduit for expression. Perhaps that is my purpose here.

For an entire year of my life, I knew no sadness. I stopped writing. It was as if the earth had abandoned my cause and left me with swelling hands and a gasping tongue. Unfortunately, I had to wait. I had to wait an entire year until my sadness returned, the sadness that allowed me to write. Now, there is nothing in me that is not poetry, it is my natural sustenance, my every thought. While I struggle with him being gone, I know that it's for the better. Now I have poetry, now I can continue to write for the world.

When I begin to write, it usually starts as a line that has lingered in my head for quite sometime. For example, I once was enthralled by the phrase "100 Fancy Couches." I had heard it in a song somewhere, and for months it stayed with me. To me, this phrase brought a light-hearted, melancholy sadness. I pictured a 20-something-year-old hippie that would die for his art, sleeping couch to couch, literally living day by day. This was so inspiring to me, but it was almost too good for anything that I wrote. I did find a place for it one day, and it was in the first few lines. Another time, I wanted to say "the people who name the streets." This to me was a metaphor for an omniscient, God-like figure, but followed my style and would fit nicely into one of my poems. For a whole year I waited to use that one as the last, powerful line in one of my worthy poems, and it's been published, twice! While sometimes I have these really great experiences of lines that really stick out to me and beckon to be included in a piece of my work, things can get really slow. When I don't like a poem by the end, I throw it out. I get very angry when what happens in my head doesn't happen on paper. So this means that before I get to the good stuff, I go through a lot of trash first. Which is painstaking and boring as all hell.

The past few months I have used a technique with my computer that has helped me encourage myself to write frequently. I leave a word document open on my laptop, and every time I open it, I leave an interesting line or two. After a few weeks, I have some good material, and I piece it together to create some good stuff. This is very different for me, but sometimes I have to spice things up a little to motivate my creativity.

Writing to me is the most rewarding experience. My creative process may change, I might change, but I will always write. I will always be a writer.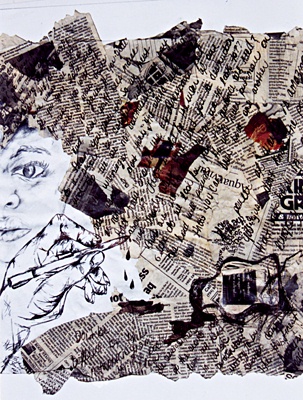 © Lashieta F., Kannapolis, NC