My Goliath
December 8, 2013
From the moment I watched his giant paws land clumsily on the plush grass, I was his. He wobbled uneasily, ducking away from the roaring car. He then rolled onto the grass and collapsed, exhausted, his huge body lying in the verdant lawn. I could relate as I yawned sleepily, wishing I could fall into the grass with him and drift away.

I can remember holding him late into the night, understanding his pain tucked beneath the loud cries. I placed him firmly in my lap, and I watched his eyes gently close in sleep with a love so strong I knew from that point on it could not be broken. I kept him next to me, folded in my arms, and promised I'd never let him go.

I look back on the days when he'd steal my socks and race to the door, wanting to play outside with them. I would cry, frustrated, begging him to let it go. I would continue taunting him with treats and salami. Still, the fabric would remain gnarled and snagged on his teeth, and he'd growl ever so quietly as I reached for them, though he'd never bite. He was born knowing better.

I remember holding him, although his limbs began to dangle off my lap.

I can recall walking him down the snowy sidewalk, frosty air licking my rosy cheeks, and I clutched his leash as if it were made of diamonds. He caught sight of another dog farther off and ran, his 150 pound body dragging mine across the road. I could hear my coat tear and feel my skin break, but I refused to let him go. I can still feel the biker's tires skidding across my back, as he had no time to react to the escalating situation.

I walked home and cried, and he followed me, his leash dragging.

I then laid across his stomach, which could hold twelve cups of food a day before he gained any weight.

I wish he hadn't been caught sleeping on the couch, for now we have to close the living room door before bed. Every night he would wait until we slept, and he would creep ever so carefully onto the feathery cushions. When he heard the echo of footsteps reverberating through the halls, he would slink back down to the ground and pretend he had just woken up.

We never give him credit for the brains he has. My dad began to call him "200 pounds of stupid", never realizing that Goliath was the one who had put holes in his nice church socks. It was never the nail protruding from the floor.

I know that he understands me. Goliath would inch his way up to the third floor, as if he could feel the vibration my tears made as they dropped to the carpet. He then proceeded to jump up on my bed with me, not caring that we exceeded the weight limit, and put his head in my lap. It would almost make me giggle, for his head takes up my entire lap now. We laid together, taking the same breaths, breathing the same air. We aren't really all that different; we just love each other more.

I love the feel of his warm kisses, which he so rarely gives. You only get one if you deserve it, and somehow, he knows me well enough to feel that I am worth one of his wet, slobber filled, yet comforting licks. His tongue could easily cover an entire cheek of mine, although he never bothered to try.

Now here I lay, my back against his, as I type his story. I'm sure he'd like it if he heard it. Then again, I may never know. He could very well be listening.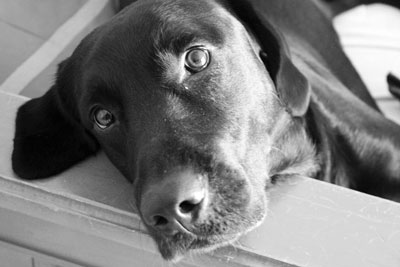 © Lindsay L., Snohomish, WA