From Me to You
December 1, 2013
No matter how much time I am given and no matter how much distance is placed between you were and are my first love. Even if I would like to,I can never stop loving you. You are woven around my heart with the finest silk. No matter how much I try to renew myself, there will always be that one stitch that i miss that will only grow. You are irreplaceable. You are unforgettable. If I could go back, I would cherish every single moment that we had like it was our last. Every argument would be buried. Every tear would be pushed away. I cannot erase you from my mind. Everytime I think that you are gone, you reappear once more...How I feel, only Marcus Houston understands.Talking to you now, it both pains me and soothes me. We are no longer together and I encourage your happiness. Even though it is not with me, I can step back and accept that. But you are still a necessity in my life. I just wish that you understood that. I call your phone blocked sometimes, knowing that you wont answer, just so that I can hear your voice on your voice mail message thing. Talking to you right now will probably pacify me for the week.

Me: hey..its jas 12:10 AM
You: hey how you been 12:11 AM
Me: ive been good, what about you? 12:11 AM
You: Great and gma and the girls are too yea yea lol 12:15 AM
Me: lol thats good, you took my line. now i dont know what to say :P 12:16 AM
You: Lol i know 12:18 AM
Me: lol whatever so whats new? 12:19 AM
You: Nothin much lol just livin my life tryin to take care of the fam wbu 12:21 AM
Me: ehh, tryna live my life lol 12:23 AM
You: Still hate living there I see 12:24 AM
Me: do and will but hey, life is life, ill be out soon enough. 12:25 AM
You: Yea I feel it look I'm sorry about the whole not being able to text you thing its just a respect thing you know if she doesn't text other guys I don't text other girls 12:28 AM
Me: I understand. I'm not gonna lie, its not easy for me but I'm dealing with it. Its good that you respect her like that and she you. 12:31 AM
You: Honestly its hard for me too 12:33 AM
Me: really? 12:35 AM
You: Yea but she knows how we use to be and she doesn't want to loose me and I can understand 12:38 AM
Me: That's understandable but i highly doubt that u or i wud leave who we are with for each other or anyone else becauee thats kinda effed up and we're not lik that 12:41 AM
You: Yeai know right 12:45 AM

I wold rather have bad times with you than good times with someone else. Everyday spent without you is another night that tears hit my pillow. Now, my boyfriend knows about you. He has his worries but he would never encourage me to disconnect communication with you. He understands that you still hold a place in my heart and would never impose that you should be erased. I am not sure, but i think he knows that you cannot be replaced. But then again, maybe i am wrong and you can be replaced. maybe this is only momentary...just temporary. But it has been a year, three months and twenty six days since you first told me that you loved me, and since i repeated those words in earnest. Again I will say, I love you. I am sorry that things did not go as we planned and I am sorry, so sorry, for missing Grandpa's funeral. I wish that I could have been there for you, I wish that I could have held your hand, I wish that I could have absorbed your pain, I wish that I could have been the shoulder for you to cry on that day if only for a moment. But there just wasn't enough stars in the sky to reflect the twinkle in my eye and make my wishes come true. I pray to God in the Heavens above that you will forgive me for that.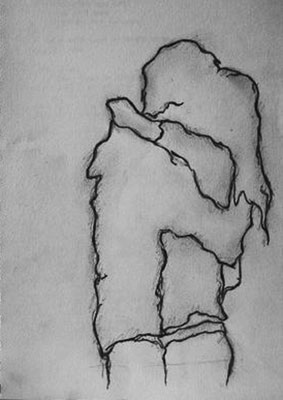 © Nicole B., Newcastle, WA