Senior Night
November 21, 2013
It's only a matter of time until I will play my last game under the bright white lights on a Friday night in front of all the screaming fans, playing along side my brothers. Before the game each year in the locker room, I can feel the intensity from all of the seniors. As I sat there in the dark of the locker room, I put on all my pads. Every game I put them on the same exact way; I put my girdle on, then my blue socks, next I squeeze into my pants, lace up my cleats, and finally put on my shoulder pads, sliding my right hand in first then pulling them down over my head.

I sat in front of my locker on the bench, as I looked at the seniors, and I saw the focus in their eyes. I could only imagine what was running though their heads and what they were feeling as their last game on our home field approached fast. Senior night has a feeling that comes every so often, but that feeling will stick with someone for the rest of his or her life. The lights flipped on, and coach Dales said, "Let's go. Everyone up. Seniors in the front, everyone fill around them. Seniors, this is it, your last game on this field. This is the one night you will always remember. I still remember my last game in high school and in college. It feels like they were just yesterday. But your last game is tonight, make the most of it, fight to win every play." I stood there, and I knew that this game was huge; this game meant everything to these seniors. I strapped on my helmet and headed out to the field for that last time with the seniors. As a junior my time continually approaches quickly. Before I know it, that night, my last time playing on our home field, will be here waiting for me.

Throughout the year there is one night dedicated to the seniors, their last game playing on the home field during their high school career. Every year during senior night, the atmosphere remains like no other. Each senior is ready to lay it all on the line and fighting every play to their best ability to get the win one last time on their home field. Family, friends, and classmates, proud of their football team, sit in the stands cheering them on. All of the players and coaches have each other's back standing there on the sidelines, cheering on this year's senior. It scares me because it brings my senior night closer and closer, which remains one night I never want to come. I enjoy this game, as do all of the other kids who play the game.

As a junior, I cannot relate to how the seniors feel, but I caught a glimpse of it out on the field the other night. In only a short period of time, that will be me standing in their shoes. After all it is not only the game that takes a toll on the seniors and the rest of the team, but when that clock hits "0.0," it hits, and it hits hard. They realize it's over; they go on never getting that game back, and whatever the outcome they will remember it for the rest of their lives. I stand there in the middle of the field, as I walk up to each senior, hugging them as the tears begin to roll down my face. I realized that each one of these guys will remain brothers to me, brothers who have had my back every play, every game. It is hard to realize the fact that it is over, and it's the last time playing on that field with them. Every year this process is repeated, and the next group of seniors will feel the same exact way. But that is the nature of the sport, as in every sport played in high school.

When I walked off that field the other night, it wasn't the same. Everyone was hanging his helmet to his side. We all knew that was our last time playing with that group of seniors. I still remember the locker room before the game with everyone quite and focused, but that was not how it was after the game. When I looked around the locker room, I saw other players crying, seniors sitting on the wooden benches still in their pads, and coaches crying as well. Even though we had lost that game, some of the seniors were just messing with each other giving one another crap about how they played. For me, that night was the last time being able to put on that uniform with this year's seniors, and before I know it that will be me putting on that uniform for the last time. Till that clock hits "0.0" every player, coach, and fan will lay it all on the line and do whatever it takes to send each one of those seniors out with a win.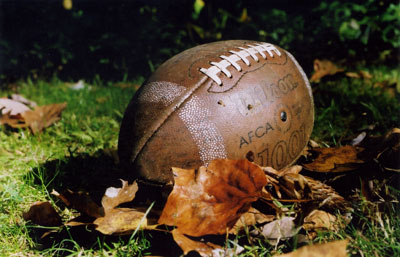 © Michael L., Bethesda, MD